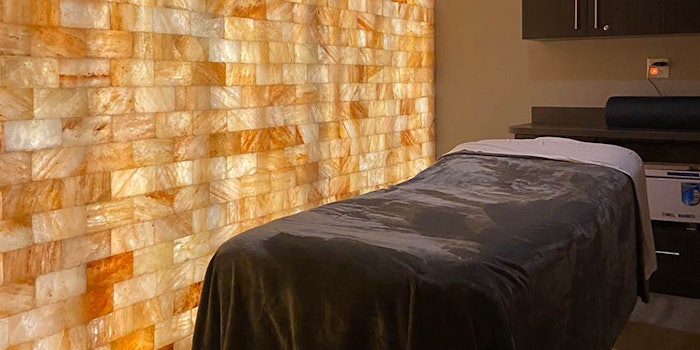 Himalayan Source has announced the launch of a private halotherapy experience that minimizes human contact while delivering multiple therapy modalities, like turning treatment rooms into salt therapy rooms that maximize client wellness and business revenues. The concept comes as the spa and wellness industry find ways to navigate business amid the COVID-19 pandemic.
The new experience will be piloted by Hand & Stone Massage and Facial Spa in Delray Beach, Florida.
Designed for use by one person at a time, Himalayan Source's private halotherapy experience combines far infrared heat therapy with the benefits of Himalayan salt to create a luxury healing experience with a particular focus on supporting respiratory health with minimal human contact.
The private halotherapy experience, which is designed to be added to any treatment room, may be offered as a standalone treatment with no therapist commission needed or as an add-on/upgrade in conjunction with a facial or massage.
During the private halotherapy experience, a client or member benefits from true halotherapy while enjoying the soothing view of an aesthetically pleasing, glowing Himalayan salt wall.
Breathing in pharmaceutical grade particles of salt from a halogenerator, he or she relaxes on a massage table that provides far infrared heat therapy combined with gemstones, pulsed electromagnetic field therapy (PEMF) and LED light therapy. Guided meditation to restore body, mind and spirit rounds out the experience to provide total rejuvenation and recentering.
"We designed this private halotherapy experience to help clients feel comfortable returning to spas," Ann Brown, co-founder of Himalayan Source, said. "During this time of high anxiety because of COVID-19, it is crucial that we support guest health and wellness in our community. This grounding, healing salt therapy experience allows spas to offer wellness in an environment that minimizes risk for clients."
"Safety has always been a top priority at Hand & Stone," Katherine Chenier, owner of the Delray Beach Hand & Stone franchise, said. "As we prepare to reopen and our guests return for some much needed relaxation, we are thrilled to offer them extra peace of mind with this new halotherapy service offered by Himalayan Source."