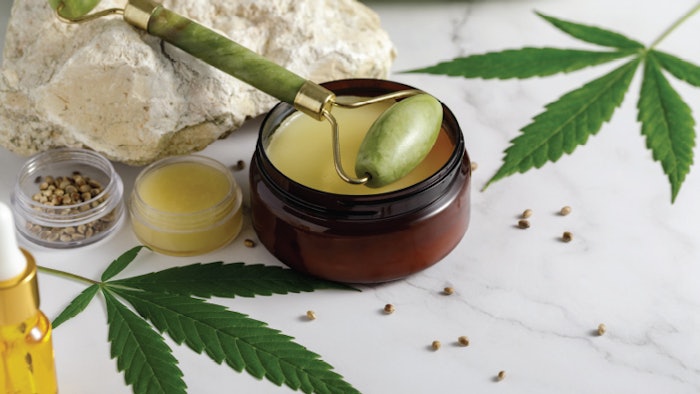 This month we asked industry pros for their input on CBD product recommendations and treatment plans. We have gathered expert advice from industry professionals on CBD's benefits for the skin, and we are bringing these tips to you. 
1. Utilize CBD as an Add-On Service or Retail Opportunity
The rise of high-quality CBD professional treatments presents a growing opportunity for spas and estheticians to offer signature CBD facials, add-on treatments and body treatments. When it comes to skin care, CBD's anti-inflammatory and calming effects makes it an ideal complement to most peels, microneedling and other sensitizing facial treatments. Incorporating CBD products with these treatments can help soothe skin post-treatment and help provide relief from redness and irritation. CBD add-on treatments are also a great way to introduce CBD to clients who are curious about its benefits for the skin. Continued use of CBD skin care at home can be a game-changer during downtime between facial treatments. By offering signature CBD facials and introducing CBD products in their treatments, spas and estheticians can increase profitability and retail revenue, all while providing a truly enhanced client experience.
-Joan Sutton – Co-Founder of 707 Flora
Related: The History of Wellness and CBD
2. Offer CBD Post Treatments To Speed Up Recovery Times
Reduce your client's downtime and enhance results by incorporating a CBD laden serum post treatment, whether the modality be laser resurfacing, microneedling, IPL or dermaplaning. CBD prevents oxidative stress by activating A2A receptors responsible for collagen production, while also activating the PPAR receptor, which alleviates inflammation. Post treatment redness can be reduced often within 60 minutes allowing your client to resume normal activities with no need to spend hours or days in hiding. The natural anti-microbial properties of CBD prevent post treatment breakouts and restores homeostasis to the skin microbiome. Furthermore, the powerful antioxidant benefits CBD provides restores a disrupted skin barrier reducing transepidermal water loss (TEWL) for a plumped, toned, more youthful radiance.
-Lora Lassley, Vice President of Product Development for Ananda Health
Continue reading more CBD treatments tips in July's Digital Magazine...