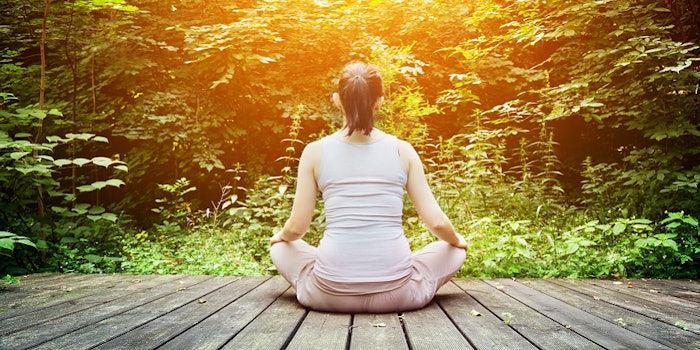 What conference begins with some meditation, mood music and dancing? Not many, but it's how Skin Inc.'s Face & Body Northern California spa expo and conference kicked off.
Keynote speaker Monique Martineau invited estheticians and spa professionals to get moving before her presentation, Ancient Wisdon for Beauty, Serenity and Success.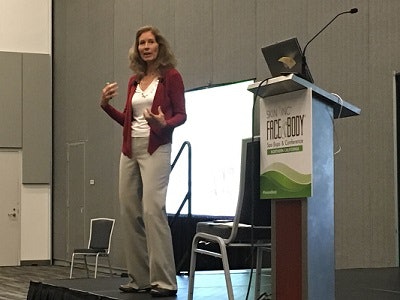 After the warm-up, Martineau provided her insight into ancient wisdom  to help manage your life and spa.
"[Estheticians are] appreciated for the services that they provide. You help people feel better. And when people feel better, they are kinder to other people, at home and at work," said Martineau.
Our Ego Vs. Our True Nature      
Martineau didn't always live a live of balance and wellness. Growing up, she reached a point she referred to as the "the dark year of the soul." In order to cure and heal her mind, she turned to meditation and Eastern philosophy. From there, she devoted her life to learning about wellness and spirituality. In her 30-plus years, she studied with well-known mindfulness professionals and Eastern spirituality teachers, such as Wayne Dyer and spa guru Deepok Chopra.
Through her teachings, she began to understand the difference between our ego and our true nature, or the analogy she uses the skunk or the owl. When you are distracted or thinking negatively, you are acting reactionary, like a skunk. If you are being mindful and positive, you are acting more like the owl.
"When people feel better, they are kinder to other people, at home and at work." - Monique Martineau.
This directly translates into how you manage your business and your personality in the treatment room. If you are anxious or negative, your clients will pick up on this. If you are positive and upbeat, the client will also get excited. Your personality is everything in esthetics. 
Tips for Being an Owl  
In order to succeed, Martineau recommends that you act like an owl. With two wings and a tail, you are able to guide through life and can meet any challenge that you might face. She recommends:
Being true to yourself. Our ego constantly gets in the way. It tells us that we aren't good enough, that life is hard, that you don't have enough time or talent. The true nature self, the owl, is wise and understands that you are smart and have your own unique talents. 
Relax into yourself. Being true to yourself is just the first step. The second step is being comfortable and relaxed with yourself. Find what makes you happy and invest in it. If it is nature, go for a walk in a nature preserve. If it is meditation, give yourself time to do it.
Partner with people who care. Don't do it alone. In order to be successful and have a good self-image, rely on the people that you care about and support you. Find a community, engage mentors and listen to people your respect.