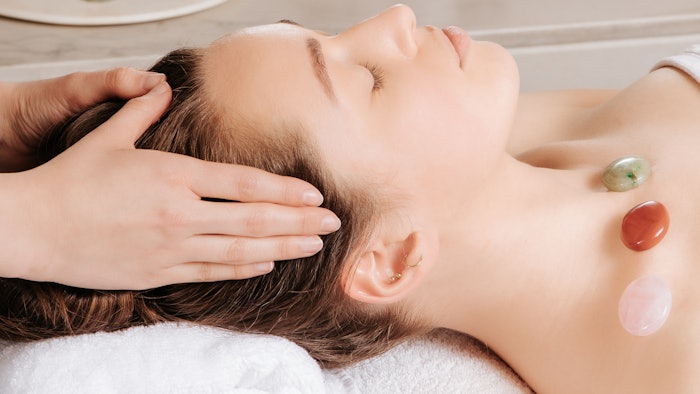 Photo courtesy of OTO Spa
Kallima Spa at Hilton London Syon Park is the latest London spa partner to offer OTO's CBD spa experiences. A full range of OTO immersive massage and facial treatments are officially launched, and the brands have collaborated to develop an exclusive signature experience, the Kallima OTO CBD Renewal Therapy, 
The partnership will provide an adult-only environment to experience OTO's sensory spa journeys, with Kallima Spa offering relaxation and rejuvenation for the mind, body and soul. The newly launched treatments elevate spa therapies with CBD oils, as well as the use of restorative sound therapy, crystal healing, sculpting bamboo massage techniques and the combination of hot and cold stone massage. 
Related: Should You Offer CBD Massage?
Spa guests start their journey with a personal consultation with their therapist, who will select the most suitable treatment experience from three choices:
Amplify: This treatment is for those seeking to be energized. 
Focus: This treatment is for guests who can benefit from feeling more present and centered. 
Balanced: This treatment provides a grounding experience. 
All of the treatments feature the anti-inflammatory and antioxidant properties of CBD. 
Kyoda Walker recently joined the location as the spa manager, and he is refreshing the spa menu with services and treatments, including the introduction of OTO's CBD treatments.
"CBD has gained much popularity for its therapeutic properties over the last few decades. Doctors and wellness industry experts worldwide are recommending the use of CBD products to help manage a variety of health conditions," said Walker. "Our vision for Kallima Spa is to create authentic, personalized wellness experiences, which includes OTO's CBD holistic treatments."