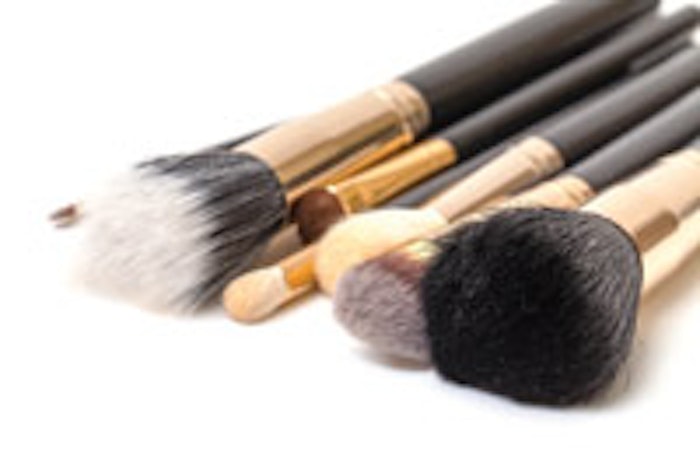 Jamie Johnson is the social media director for the WJXT 4 TV station in Jacksonville, Florida, as well as a producer on the weekends for the station's morning show. As you can imagine, Johnson's job makes for very early mornings, and she admits that rising before the sun leaves her with little motivation to put on a full face of makeup, especially since she works behind the camera and not in front of it. Her routine is simple: eyeliner and mascara.
The dress code Johnson follows at work is blue jean-approved and a casual look is typical. Although she has limited time to spend on her appearance, she has learned to love a little sparkle.
During her skin care consultation, Johnson's list of concerns included acne, although her skin was only affected by a few blemishes. She is also an avid runner, which can take its toll on skin. Johnson brought in all of the makeup, products and tools she uses on a daily basis, and was provided with instructions on how to best use those products and tools, as well as which ones to toss. She was supplied with directions for a skin care regimen, along with step-by-step recommendations to address her issues.
Johnson was interested in learning an everyday makeup routine that would translate into looking like the best version of herself.
Step 1: On a clean face, apply a sheet face mask most suitable for the client's specific skin type.
Step 2: Apply a light moisturizer.
Step 3: Apply hydrating eye gel under the eye area to act as a primer for concealer.
Step 4: Under the eye and in the inner corners, apply salmon-tinted concealer to obliterate a tired appearance.
Step 5: Next, apply and blend liquid foundation with a wet sponge on a stick in downward strokes so the hair follicles lay down.
Step 6: Use a kabuki brush to apply Asian rice powder to diminish shine.
Step 7: Add a touch of honey-colored eye shadow all over the lid with a small eyeshadow brush.
Step 8: Line the top and bottom lids, from the middle of the eye to the outside corner, with a deep purple-blue accent eyeliner pencil.
Step 9: Finish the eyes with an eggplant-colored mascara. (Black mascara helps to define the eyes, but can sometimes makes them appear smaller.)
Step 10: Apply a bronze blush with a touch of shimmer using a fan-shaped blush brush.
Step 11: Skip the lip liner, but add a shimmery coral lipstick with a touch of clear gloss applied on the center of the lips.
Step 12: Complete the look with a setting spray or a fresh rosewater spray.
Finish the makeup lesson with a face chart, a step-by-step at-home sheet and recommendations, as well as your business card.
Noreen Young is an educator and a skin therapist who owns her own beauty business in Florida. She is a sought-after speaker in the spa industry and a frequent contributing writer to spa trade publications.