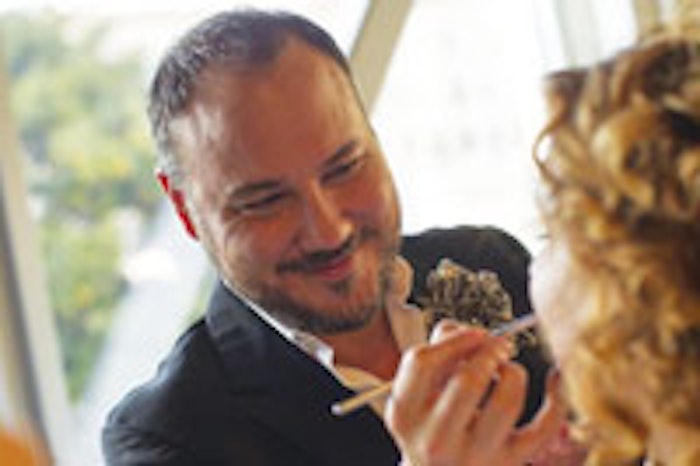 This month, Deedee interviews makeup artist and Muse co-founder, Alphonse Wiebelt.
Deedee Crossett: What is the No. 1 technique that every makeup artist must perfect?
Alphonse Wiebelt: Color matching; use a professional makeup line with a wide variety of shades that can be blended for the perfect match.
DC: What advice do you have for new artists building their kits?
AW: Build it with professional makeup. Buy makeup based on the pigments and tones, not the glittery packaging or brand name.
DC: Why only buy professional if you need a kit with a variety of products?
AW: Would a skin care professional perform a facial with something she purchased from a drug or department store?
DC: What's your most popular class?
AW: Airbrushing. Many people are attending airbrushing classes because of consumer awareness. Makeup artists not offering this service are losing money.
DC: What are the most common complaints you hear from agencies, models, brides and photographers?
AW: Dirty brushes, sitting on the job and taking personal photos. It's so important to maintain a professional work environment from start to finish.
DC: What is the etiquette on taking photos with a mobile device during a professional photo shoot?
AW: Receive permission before taking any photos. Most professional shoots will not allow the images to be used in any capacity before the photos are released.
DC: Is mineral makeup the best option for makeup artists who are also estheticians?
AW: Mineral makeup gives natural protection for daily use. Many clients are now requesting products that are natural, vegan, and gluten- and paraben-free.
DC: Any health and safety tips?
AW: Sanitize your hands; clean your brushes and keep them separate from soiled brushes; sharpen your eye pencils before and after every application; and never double-dip the mascara wand.
DC: Do you like it when a client brings a photograph as a reference?
AW: Yes; photos explain their style, how they want to see themselves and are a visual way to consult on a look.
DC: What are the makeup basics that should be reviewed by every makeup artist?
AW: Return to basic color theory, especially for camouflage makeup.

Founder and owner of the San Francisco Institute of Esthetics and Cosmetology since 2002, Deedee Crossett is an industry pioneer for raising the bar of undergraduate education for cosmetologists and estheticians. She can be reached at www.facebook.com/deedee.crossett and Twitter @DeedeeCrossett #10things.