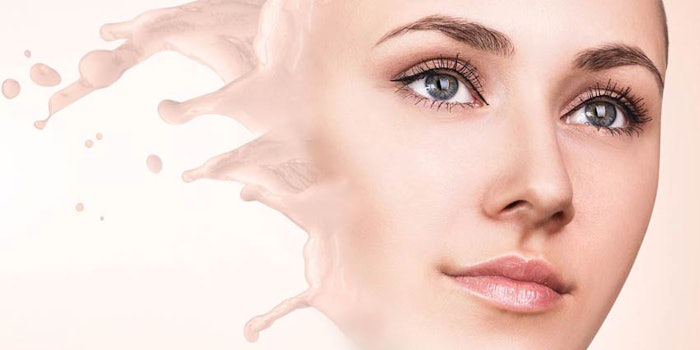 Makeup artists can learn a lot from other types of artists. An artist uses acrylics or oils to prime their canvas because they want their work to look its best and last a long time. As a makeup artist, does that sound familiar to you?
As an artist myself, I know that there is a methodology to preparing a canvas that mimics the same process of preparing a face for color and enhancing facial features and bone structure. Once you have a stretched canvas, for example, it must be primed to accept paint. A primer seals and protects the support, makes the canvas less absorbent, helps the colors stand out, provides a smoother surface, helps paint bind and creates an excellent surface to begin painting.
I used to hate doing the prep work on my canvas, as I felt it was time-consuming and labor intensive. A few times, I tried skipping this process and much to my dismay, the gorgeous work of art quickly showed paint chips and visible cracks. As a makeup artist, I find that makeup works the same way—the prep is crucial to producing a beautiful and lasting piece of work for clients.
One of the key benefits to primers is the ability to minimize texture challenges. These challenges include things like fine lines, enlarged pores, oily skin areas, dry skin patches, acne scars or ruddiness.
In the past, makeup artists attempted to fill skin texture irregularities with more foundation or powder, which truly created a mask-like appearance. With the introduction of primers, how we use makeup has changed forever, and for the better. We now have the ability to tackle these skin texture challenges prior to applying foundation. This allows us to use far less makeup, which gives the skin a more natural appearance. Primers are the secret weapon to a natural and lasting look, so don't be shy about suggesting them to your clients.
A Primer on Primer
Primers set the canvas for makeup coverage that lasts beyond an eight-hour day. They have a magical way of balancing out dehydration and oiliness in skin, which prevents the makeup from disappearing halfway through the day. This is because makeup adheres better to a primer. Primers help makeup stay put even in humid, dry, cold or hot climates. Think of it as a magical force field. It is available in cream, gel or powder and is typically made from a silicone-based polymer like dimethicone, which is responsible for the smoothing effect. Primers typically contain minerals that can even out skin tone, decrease breakouts and prevent dryness. See Popular Primer Ingredients, for a list and description of what you may find in a primer. Patch-test any silicone-based primers before putting them on an entire face, as some people with sensitive or breakout-prone skin can have reactions to silicone.
"As a makeup artist, I find that makeup works the same way—the prep is crucial to producing a beautiful and lasting piece of work for clients." - Jaclyn Peresetsky
There are two main types of primer: transparent or tinted. Some are formulated to be moisturizing, while others are for drying/oil reduction. There are also primers that are formulated for other areas of the face such as lips or eyes. To avoid carrying many different kinds of primers, it is important to purchase them first and practice on yourself, clients, friends and family to really see which primers could be a fit for your spa or salon.
Application of Primers
Many makeup artists prefer to use their fingertips when applying primer because the heat from fingertips emulsifies and melts the primer down into the skin, giving the skin a satiny finish. Some simple steps to applying primer are below.
Step 1. Cleanse the skin.
Step 2. Follow with treatment serums and a moisturizer.
Step 3. Wait a minimum of three minutes for absorption.
Step 4. Squeeze or pump out a dollop of primer.
Step 5. Start application process in the center of the face. Dot, then blend out in upward sweeping motions.
Step 6. Reapply in thin layers in troublesome areas such as texture irregularities.
Step 7. Follow with foundation or a finishing powder.
Choosing A Makeup Primer
A transparent primer can be worn under foundation or powder, while a tinted primer can be worn alone for a natural makeup look or under foundation or powder for a more polished look.
There are a lot of different formulas that serve a variety of purposes. It is important to consider what your client needs from their primer. Is it to add hydration, mattify skin, color balance, smooth fine lines and wrinkles, create a soft-focus finish, add a dewy appearance or light reflection to minimize imperfect skin? Some of the primer formulas are outlined below.
Brightening primers. Face primers do wonders to revive dull and tired complexions. The secret to getting the glow back in skin is to choose a primer packed with illuminating properties. When stress and level of fatigue show on skin, the brightening primer is the best choice. These primers have finely milled shimmer particles that are an immediate radiance boost. Apply the primer to the highest points of the face such as the forehead, cheekbones and nose for an instant face lift. Dark circles and signs of fatigue fade away with this type of primer. As a result, the complexion looks brighter and refreshed.
Mattifying primers. For oily skin, look for a primer that absorbs excess oil and provides a matte finish. Most primers in this category are water-based, mattifying gels that eliminate shine, combat oiliness and deliver a natural-looking finish. These formulas immediately reduce the appearance of pores for a picture-perfect complexion. For clients with blemishes, try primers that contain acne-fighting ingredients like salicylic acid.
Soothing primers. If dryness and irritation are a concern, a primer that will nourish and calm skin is needed to leave it soft and smooth. For skin with rosacea or redness, a highly moisturizing primer that contains sunscreens and anti-irritant agents is a must to nourish and protect skin against UV rays. The light green tint will counteract with the redness and leave an even complexion.
Hydrating primers. Dry skin will benefit from a continuous hydration formula. Look for a primer with hyaluronic acid that can attract and retain water in the skin. There are also some formulas that can deliver 24 hours of hydration to keep skin supple and moisturized all day long.
Anti-aging primers. The best option for mature skin is a makeup primer that features age-fighting benefits and reduces the appearance of fine lines. There are primers with an anti-aging technology that not only blurs fine lines, wrinkles and imperfections but also encourages natural collagen production and protects skin from the sun. Other ingredients included are soothing botanicals and age-fighting antioxidants to improve skin elasticity and create the perfect canvas for a long-lasting makeup.
Eyelid and lash primers. Primers for eyelids prevent eyeshadow from creasing and can mattify oily eyelids. In our spa, we find this primer flies off the shelf because many clients with oily eyelids do not get longevity from their eyeshadow color. Eye primer also can conceal the red discoloration on the eyelid to create a neutral base prior to applying any eyeshadows.
If a client wants longer but natural-looking lashes, their best option is to incorporate eyelash primer into their makeup routine. It is like applying a base-coat to replenish lashes and boost mascara's benefits. As the aging process continues, lashes thin and we have less of them. Applying lash primer gives the illusion of more and thicker lashes.
Discoloration. Other primers are available to help discoloration challenges like rosacea and acne, which presents as redness or irritation. Primers that have a green undertone usually neutralize redness perfectly prior to applying foundation or power.
Join the Prime-Time
Primers are a fun and exciting world that has truly changed the way makeup is applied. Preparing the face, much like preparing a canvas, is a smart move. Enjoy the experimentation of primers and mastery of learning them. Consider having a primer event at your spa or salon to kick off the introduction of primers to your clients. A smoother complexion and longer-lasting makeup are just one primer away.
Popular Primer Ingredients
Silica (silicone dioxide). This mineral is commonly found in primers to control shine
Waxes, polymers. These ingredients help makeup stay by creating a stronger bond between skin and the foundation.
Cyclomethicone.This silicone helps
reduce grease.
Propylene Glycol. This ingredient often serves as a moisturizer.
Retinyl Palmitate.This vitamin A derivative reduces flakiness and restores suppleness.
Tocopheryl Acetate.This antioxidant helps condition skin.