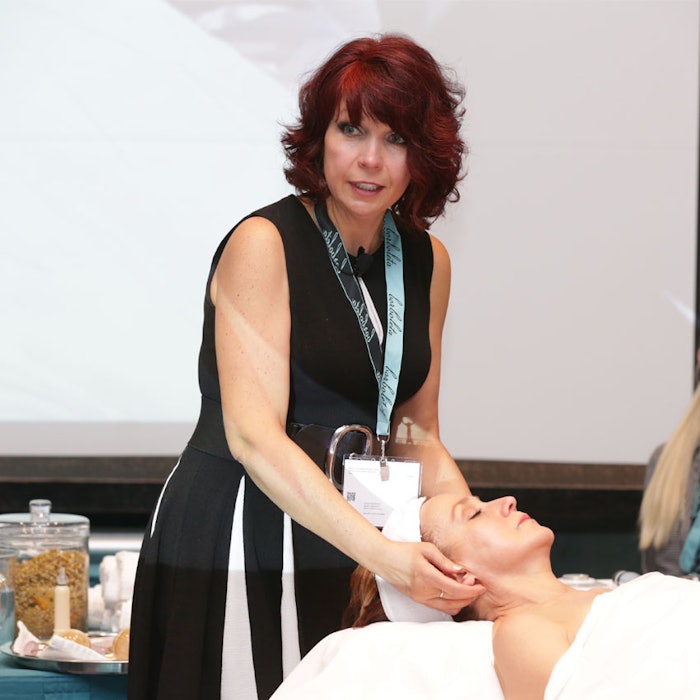 Treatments took centerstage during Day 1 of Face & Body Midwest 2017 in Rosemont, Illinois.
The day began with an entertaining discussion of all things K-Beauty with Janel Luu, founder of Le Mieux Cosmetics, at the K-Beauty: Essential Tips for Mastering the Latest Beauty Trend class. Luu discussed utilizing a layered approach to a client's skin care regimen, as is traditional with Korean beauty practices. Luu also discussed chi and how its flow mimics the meridian lines. 
Next, Shonda Gonzales demonstrated body sugaring to the crowd at the Body Sugaring: A Sweet Alternative Hair Removal Method. As certified body sugaring educator for Tamara's Professional Body Sugaring, Gonzales' showed the audience how to properly remove hair using her body sugaring technique. 
In the afternoon, Lisa Shor, director of education for The Art Institute of Makeup, a division of New Age Spa Institute, explained to the audience how to apply the latest beauty trends to mature skin. 
"Makeup is only as good as canvas you're putting it on," Shor said to the audience at Red Carpet Ready at Any Age class. "When we're talking about makeup for any age, we're talking about oil production."
Shor explained that just because a woman is in her 50s, don't assume she has dry skin. Protocols for makeup application should be tailored to each client. 
"Makeup is only as good as canvas you're putting it on." Lisa Shor 
Cynthia Malcom, education director and owner of Columbus, Ohio, Edgar Renee' Aesthetic Education & Consulting Group, discussed treating darker Fitzpatrick skin tones at the Treating Darker Skin class. Most importantly, Malcom stressed the importance of never assuming what a client's Fitzpatrick score will be based on how they look; always ask your client to fill out a skin survey. 
Award-winning esthetician and formulator for Elina Organics, Elina Fedotova, wrapped up the day of advanced education at the Firming & Rejuvenation Treatments for the Jawline with a lively demonstration of a technique to help firm and rejuvenate the jaw, neck and décolleté. Fedotova is a firm believer in utilizing natural ingredients and herbal teas. Her treatment can be added on to a facial or used as a stand-alone protocol. See the steps below: 
Cleanse the neck and décolleté area with a gentle cleanser for dry to normal skin.
Perform lymph drainage massage manually or with the use of an air pressure therapy machine.
Continue with a manual massage over warm detox herbal compress.
Gently exfoliate and brighten the area with application of fruit peel (blend of natural AHA).
Mix honey granules with a nourishing serum and massage over the area. When it gets sticky, use gemstone rollers and spheres for several minutes. 
Apply hyaluronic acid gel and sea water pearl mask to the area and penetrate with a transdermal device like galvanic, ultrasonic, electrophoresis, or light therapy.
Remove the mask with an herbal compress.
Refresh the skin with Botanical Toner.
Use the hydrotherapy machine with fulvic minerals (add 5 milliliters/1tsp per 500 milliliter 16 oz water bottle). 
Apply natural peptide mask to the area and penetrate it with cryotherapy device. 
Spray botanical toner over the area and then pat a dry towel on the skin. 
Massage vitamin C treatment serum and neck cream to the jaw, neck, and décolletage.
Complete the procedure with the application of sun screen.