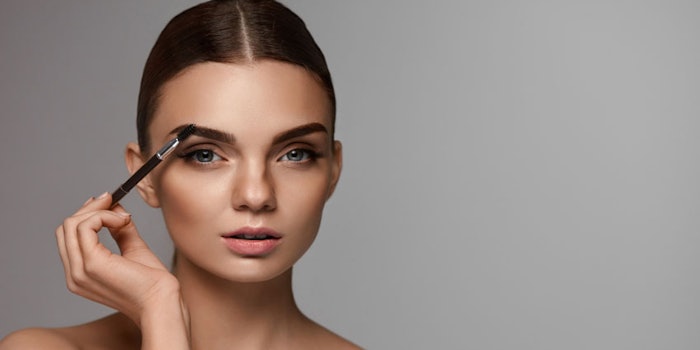 "Brows are everything right now because they're the only thing peeking out of your mask, so they need to be on point! Natural, but polished, so they can express without saying anything," says Malynda Vigliotti, owner of Boom Boom Brow Bar. 
"It's so important to do nice things for yourself these days, and with eyes being the only attribute that's out of the mask, maintain them. Get them gorgeous. A good post-quarantine wax feels like you've just lost 10 pounds," adds Vigliotti.
For some, getting a professional service is still not an option. As your clients' trusted beauty professional, offer them these easy steps on how to sculpt your brows at home when they can't get to you or between visits.
1. Grow
There has to be enough hair to work with. More hair provides added options for better length, width and arch shape.
2. Have a Plan 
Use a white eyeliner to map out where brows should be. Remember the basics! Do not make them too far apart in the center. Brows should start at the inside corner of the eye. Identify where the arch is and make sure to not over-tweeze on the brow bone, it should be a straight line. Finally, brows should not be too short, so take it easy, better safe than sorry.
3. Go
Begin tweezing anything under and around the outline with clean sharp tweezers (pointed slanted tweezers are perfect). Remove the liner and there should be a clean line that is not over-tweezed. If not, fill in with a brow powder.
"You should only tweeze once a month. Designate a day, maybe put it in your phone, so all the hair grows in on the same growth cycle," advises Vigliotti. 
Now you're set to have great brows at home.