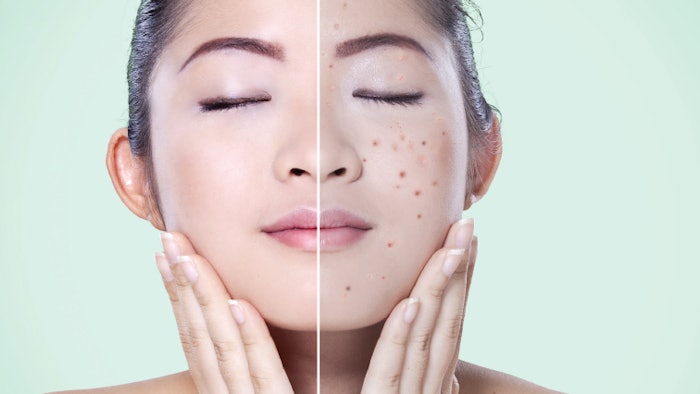 Acne is one of the most complex skin conditions skin care professionals deal with every day. According to the American Academy of Dermatology Association, acne is the most common skin condition in the U.S., affecting up to 50 million Americans annually. It is also estimated to affect 9.4% of the world's population, making it the eighth-most prevalent disease worldwide.1
There are many misconceptions about what causes acne, but at its core, acne is a chronic disorder of the pores, formally known as retention hyperkeratosis. Retention hyperkeratosis is defined by an accelerated production of skin cells within the pores and increased retention of dead skin cells. Normal pores shed a single layer of dead skin per day, while pores experiencing retention hyperkeratosis shed up to five layers of skin daily. This leads to an overabundance of skin cells that then mix with sticky sebum, which creates a microcomedone, the beginning of all acne lesions. While acne is hereditary, there are many factors that can exacerbate the condition, like pore-clogging makeup, hormonal imbalances, and frequent consumption of trigger foods like dairy.
Acne-prone individuals will experience breakouts no matter what, and those breakouts can range from mild to severe. When this natural predisposition is combined with outside factors known to worsen acne, it can be extremely difficult for clients to clear their skin. A solid understanding of what acne is and the factors that can make it worse is the foundation for anyone to treat acne successfully. You will then need to know how to coach your client through some necessary changes to their skin care, cosmetics or lifestyle. Though there is no cure for acne, it can be kept under control.
Related: Touching Clients With Acne
Lifestyle Low Down
There are many things that clients do every single day that can exacerbate their acne breakouts. From using comedogenic hand lotion to regularly swimming in a chlorinated pool, there is an abundance of normal things that are not typically associated with acne. Below are some simple tips for trouble shooting your client's breakouts and coaching them on acne lifestyle best practices.
Tip #1: Avoid Touching Your Face
This is a straightforward concept that most people assume is a good practice for clear skin. But, this is also something that people do without realizing when they are at work or school, talking on the phone, or sleeping. This is made worse when using a phone that is not wiped down daily with alcohol or when using a comedogenic hand lotion.
Your client may be experiencing breakouts in a specific area like the cheek that they are not used to. Ask them about their lifestyle: what kind of lotion do they use, do they rest their cheek on their hands often, how often do they clean their phone? This is also a good time to remind clients who like to inspect their breakouts in the mirror to leave the extractions to you.
Tip #2: Avoid Using Scented Detergent and Fabric Softener
Artificial fragrances can be irritating for clients experiencing acne and other skin conditions like folliculitis and eczema. Fabric softener and dryer sheets can contain both fragrance and comedogenic ingredients. They tend to leave a waxy substance on clothing, towels and pillowcases that can clog pores.
Tip #3: Apply a Thin Layer of Vaseline Before Swimming
Swimming pool disinfectants contain iodides and chlorine that can cause skin issues for frequent swimmers. If you have a client who swims regularly for sport or recreation, advise them to apply a thin layer of Vaseline over their sunscreen before getting in the pool. The Vaseline will act as an occlusive barrier to protect their skin from irritants.
All About Acne Podcast Episode
Tune in to the latest Sounds Like Spa episode where we discuss everything acne with Alex Hernadez, author of this article, and Kelsey Duque from Face Reality Skincare. In the first part of this two-part episode, we take a look at how to become and acne expert and be there for your clients with acne. 
Learn about some of the these two acne expert's favorite treatments, ingredients, devices and more when we play our favorite "Love it or Leave it" game on the podcast. 
Check out the full episode: All About Acne: Becoming an Acne Expert
Continue reading the do's and don'ts of treating clients experiencing breakouts in our Digital Magazine...
Alex Hernandez is a licensed esthetician and the clinic manager and lead educator at the Face Reality Acne Clinic in San Leandro, CA. She became a Face Reality Certified Acne Expert in 2018 and has worked with hundreds of acne clients in her esthetics career.