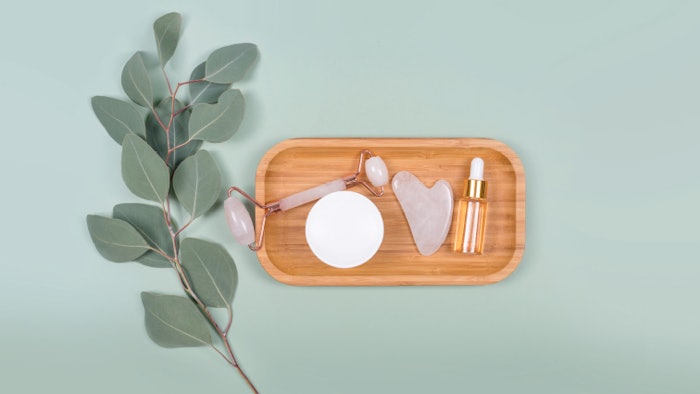 Masking is definitely a given in any facial treatment. Masks have a higher concentration of active ingredients that are needed to improve skin's health. Because of this concentration of active ingredients, face masks act quickly and results can be seen almost instantly. Face masks can help deliver moisture to dry or dehydrated skin, use hydroxy acids to remove dead skin cells, remove excess oil, clear clogged pores, reduce large pores, improve skin texture, help with aging skin, but most importantly, masks help deliver glowing skin.
Adding holistic tools to any mask is a great way to take your client's treatment to a new level. Facial tools are skin care devices that help improve the effectiveness of skin care products. They help products penetrate better, improve circulation, relax facial muscles, reduce wrinkles, tone skin and more. Using tools and devices during treatments can also help increase the price of services and retail sales.
Facial Rollers
Facial rollers are the most popular of all tools in the treatment room and for retail sales, due to their simplicity and affordability. They are easy to use, offer many benefits, and work great over most mask types. They are usually cool to the touch, making the rolling experience soothing and refreshing. Everyone can appreciate the ease and efficacy of this double-sided tool. The larger of the two ends is great for rolling along areas such as the jawline and neck. The smaller side can be used to combat puffiness under the eyes or minimize the look of pores around the nose.
Many of these tools come in a variety of gemstones. Regardless of which gemstone is chosen for the facial roller, there are benefits of using these massaging devices regularly. Studies show that rolling the face for five minutes daily can stimulate blood flow, increase lymphatic drainage, aid in deeper penetration of skin care products, ease muscle tension and provide a mild skin toning effect. Facial rolling is also a great way to relieve stress and relax facial muscles.
Related: Making Masks Modern
Gua Sha
Gua sha is a modality of Traditional Chinese Medicine (TCM) that uses a tool, such as a stone, and runs it over the skin to break up tension due to stagnation from water retention, muscle tightness or other congestion. Not only do they feel cooling and soothing, they can also help boost lymphatic drainage to reduce puffiness and inflammation, instantaneously. Using gua sha long term can help stimulate collagen production to fill in fine lines and boost skin elasticity.
There are many shapes, styles, sizes and types of gua sha tools to choose from. Always try to find ones that fit comfortably in the hand and can be maneuvered with ease across the skin. No matter what type of tool is chosen, the benefits are all the same.
Continue reading about holistic masking tool in our April Digital Magazine...
Shawna Rocha is the owner of Awaken Day Spa in California and Washington. She loves helping clients with compromised and sensitive skin. Since becoming an esthetician, Rocha completed multiple advanced courses in Oncology Esthetics and Immuno-Esthetics, and she specialized in training in sensitive skin and holistic therapies. She holds several certifications, including one in NCEA and has become the director of education for Hale and Hush Skincare.