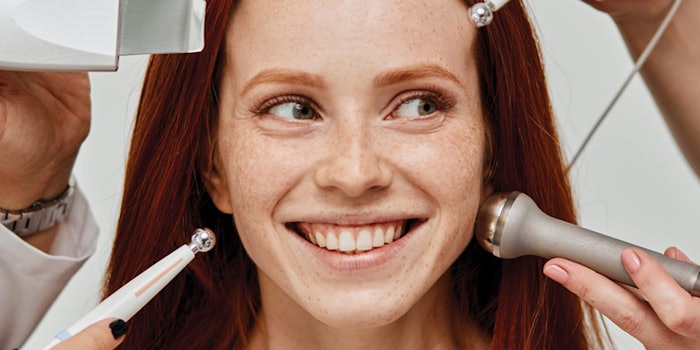 This past January, 4,500 companies at the Consumer Electronic Show (CES) in Las Vegas showcased everything from plant-based, impossible pork to folding screen computers, life-saving health gadgets and 10-second toothbrushes.1,2 There was even a prototype model of the city of the future. Recognizing developing trends and what technology will impact the future is invaluable to us as skin professionals. Technology now touches every aspect of our lives, and consumers desire it not only in their services but to improve their everyday way of life.
So, what technology do you need in your skin treatment space and what tools should you be selling on the shelf? How do we evaluate what really works and gets results? Selecting a trustworthy manufacturer partner and making a sizable financial investment can be a truly daunting task for most small business owners. It's a challenge, especially when your Instagram feed and inbox is flooded with offers on skin brands, gizmos and gadgets and (possibly retouched) before and after images.
A few months ago, via a couple of clicks on Instagram, I bought three heated eyelash curlers as perfect stocking fillers for my teenage nieces. Alas, I'm still waiting for them to show up.
There's the increasingly fuzzy line on what is quality, CE certified, FDA approved for medical, esthetic or consumer use or even okay for you to use with your state license. Before you throw up your hands and say I'll skip the tech and go old school with just my hands and good old facial steamer, consider the growth of this market.
The global beauty devices market was valued at $39.1 billion in 2018 and is expected to reach $107.2 billion by 2024.3
Development of at-home and handheld devices is the key trend witnessed in the industry.4
The U.S. beauty devices market size is set to reach $31.1 billion by 2024, observing a CAGR of 17.0% during the forecast period. The U.S. per capita is among the highest in the world, which illustrates high affordability of premium devices in the country.3
P&S reports that the increasing awareness among consumers about devices and skin technology for treating wrinkles, blemishes and sagging skin is leading to their increased adoption and attributing to their vast growth in the market.5
Vetting Devices
While all this growth is fantastic, the downside is that new pieces of variable quality equipment have become available and from a myriad of sources at a disturbing rate. This leaves many owners confused about price, legalities, customer support, training, warranties, maintenance help and primarily safety.
When you are researching manufacturers, make sure that they have a knowledgeable sales representative but also a robust online education program and a training facility with qualified educators that can support all of your staff training needs.
Legitimate and responsible manufacturers require every equipment purchaser to take or attend a certification class where the skin therapist learns the science, application, how to operate and care for the equipment. A comprehensive marketing package with assets, imagery, menu copy and cost-per-treatment analysis should also be available.
In your search for legit and safe technology and suppliers, always look for:
ISO 9001 and ISO 13485 Quality Certifications,
GMP Compliance,
Manufacturer Product Liability Insurance and
CE Safety Testing Declaration.
References