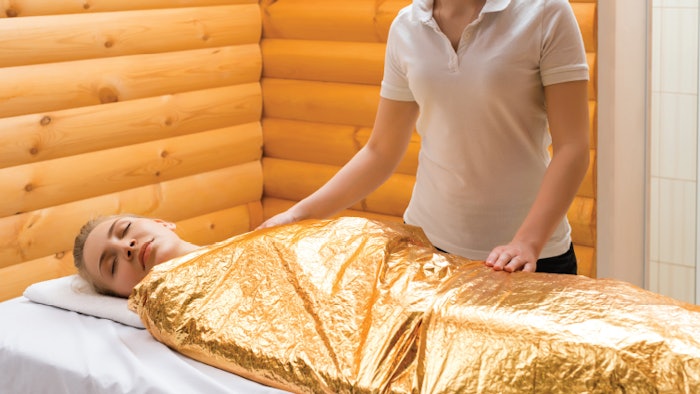 This month we asked industry pros for their input on body wrap treatment recommendations and advancements. We have gathered expert advice from industry professionals on body wraps, and we are bringing these tips to you. 
1. Generate Excitement with Unique Offerings
Offer a variety of body wraps, including seasonal options. It is a good idea to have standard body wrap treatments, such as detoxifying or de-aging, but offering unique seasonal body wraps will pique interest from your consistent clients and will stand out from your service menu. For example, pair different body wrap services with different seasons like a soothing summer wrap or tropical escape wrap in the winter. Think outside the box to keep the ideas fun and include a cross promotion with correlating retail products for best results.
-Melissa Morris, Director of East Coast Education for Pevonia Natural Skincare
Related: Curating Customizable Body Wraps
2. Stay Close to Offer Comfort
It can feel strange for a guest to be all wrapped up, and they may suffer with claustrophobia. It is really important to never leave the treatment room. Provide a nice neck and scalp massage or offer additional upgrades such as a mini facial, eye or lip treatment, or hair and scalp treatment.
-Kimberlee Geng, Director of Education and Training for Pure Fiji USA
Continue reading more body wrap treatments tips in May's Digital Magazine...