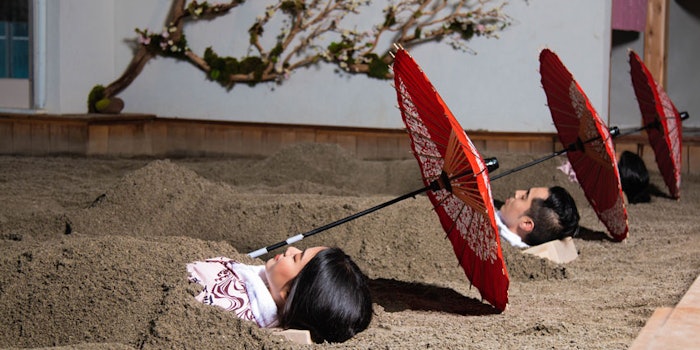 The SoJo Spa Club in Edgewater, NJ sought ancient Japanese influence for one of its most popular offerings. The Authentic Volcanic Sand Bath claims to provide healing properties for ailments like muscle pains and inflammation, as well as providing a general detox of the body.
With the treatment consisting of having hot sand raked over your body, Skin Inc. wanted to dive a little deeper into what this treatment had to offer. We sat down with Esther Cha, marketing manager of Sojo Spa Club, to learn more about the benefits of this treatment, why they incorporated it into their spa and how many clients really want to try bathing in sand. 
Skin Inc. (SI): What are the benefits of the Volcanic Sand Bath? 
Esther Cha (EC): The heat from the water and and weight of the sand work together to help relieve musculoskeletal pain and stiffness. Like many kinds of heat therapy, our Volcanic Sand Bath treatment detoxifies the body and boosts the immune system while the alkalinity of the mineral-rich volcanic sand amplifies the detoxing effect.
SI: How did you decide to add this treatment to your menu?
EC: SoJo Spa Club is dedicated to bringing together spa treatments and cultures under one roof. We wanted to bring this one-of-a-kind treatment from Japan into our spa so more people can learn about it and enjoy the benefits of it. We were able to replicate an authentic Japanese Volcanic Sand Bath through our partnership with Hakusuikan, a luxury resort and spa in Japan. They helped us with everything from transporting the sand to the U.S. to teaching our staff the proper techniques on how to cover someone in the sand.
SI: Would you say this is a popular treatment in your spa? 
EC: The Volcanic Sand Bath has been a popular treatment in our spa ever since we opened it. Tens of thousands of people have already tried it and we have many repeat guests who do the Volcanic Sand Bath treatment every time they visit SoJo.
SI: What clients is this treatment best for? 
EC: The Volcanic Sand Bath treatment is appropriate for anyone who is interested in overall wellness, but I could see how athletes or people who experience any type of muscle soreness or tightness could benefit greatly from it. 
SI: Are there any contraindications for this treatment?
EC: We always recommend checking with your doctor or other medical professional before trying any new kind of treatment. The temperature of the sand ranges from 120-130 degrees Fahrenheit, and the wetness of the sand can have a weighted blanket type of sensation on your body. If you have clients that easily get overheated or claustrophobic, this may not be the ideal treatment for them.
SI: How is this treatment performed?
EC: Our guests are given a special Japanese robe, or yukata, to change into. They are then instructed to lie in a specific area in our Volcanic Sand Bath. A wooden pillow is provided to prevent their heads from overheating. On sunny days, a small umbrella is used to shield their faces from the sun. Then, our attendant will cover them quickly from the neck down in the volcanic sand. Once all the areas of the sand bath is utilized, the sand bath is then sanitized with heated water so that no one is ever being covered in sand that was used to cover someone else.
SI: How much does this treatment cost and what is its duration? 
EC: The Volcanic Sand Bath is $20 a session and the duration of the treatment is really up to the individual and their personal level of comfort. You can stay covered in the sand for up to 15 minutes.