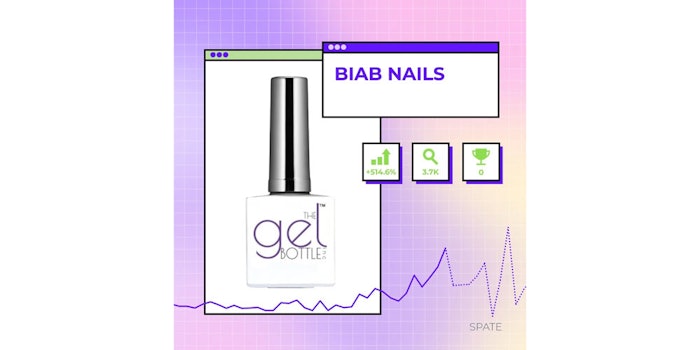 BIAB nails are on the rise!
According to Spate, builder in a bottle nails have increased in popularity, and consumers are seeking the strengthening benefits of BIAB nails to reduce and prevent nail damage.
On average, there are 3.7K searches every month in the US for BIAB Nails, which is low volume relative to other nail art. It's grown +514.6% in searches since last year with no market leaders and no competition.
There's no need to panic about how you're "falling behind on trends" if you haven't heard of BIAB Nails before. The trend is simply in its infancy, as indicated by the low number of related searches. BIAB nails are a strengthening soak-off gel manicure that stays chip-free for weeks. Related searches like "near me" reveal that consumers are interested in exploring this trend as an in-salon service. 
Consumer-driven (rather than brand-driven) searches show opportunities for brands to enter the space. One major opportunity is to expand the number of BIAB polishes on the market, as BIAB nails currently come in a limited range of colors. 
The GelBottle is ahead of the trend, having recently launched its 12 Days of BIAB advent calendar, which features brand-new exclusive Mini BIAB™ shades perfectly wrapped up in a beautiful desktop calendar. We featured the calendar in our November/December digital magazine.
Follow Nailpro on Instagram and subscribe to our free daily newsletter to receive the latest news for nail professionals.