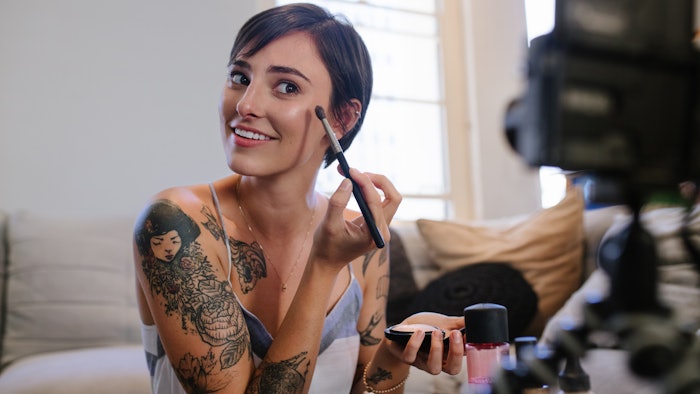 Tajmeeli analyzed YouTube videos across 25 popular makeup topics to uncover the most-watched makeup tutorials. The top topic is smokey eyes as part of a bridal look, followed by red lips and liquid lipstick. Other noteworthy topics are Egirl look and videos that compare makeup trends by year.
Related: 2021 Twitter Trends: Personal Care
The top makeup tutorial topic, smokey eyes bridal look, had a combined 111,005,565 views according to the report. It is almost three times as much as the standard smokey eyes topic, which had a combined 43,388,223 views.
Among specific looks, glam and Egirl are the second and third most viewed tutorials. Five of the top 20 tutorial topics are related to lips, including red lips and liquid lipstick ranking in the top four.
The report also included the top ten most-watched videos in makeup tutorials, with the top two videos focusing on lipstick and the third on smokey eyes bridal look. The top video—"Why every girl loves a red lipstick? Amazing Makeup Trick You Should Know#123Go #shorts"—has 78,691,868 views and made up 7% of the overall viewership.
The full report is available on Tajmeeli's website.
Top Ten Most-viewed Makeup Tutorial Topics:
Smokey Eyes Bridal Look—111,005,565 views
Red Lips—108,162,324 views
Makeup Trends Videos (Comparison between Years)—100,005,913 views
Liquid Lipstick—97,218,934 views
Winged Eyeliner—78,898,440 views
Eyebrow Tutorial—77,547,267 views
Glam Look—54,580,805 views
Egirl Look—49,004,428 views
Smokey Eyes—43,388,223 views
Sunset Eye Makeup—40,600,494 views
More from Tajmeeli: The Most Searched Beauty Products in 2021