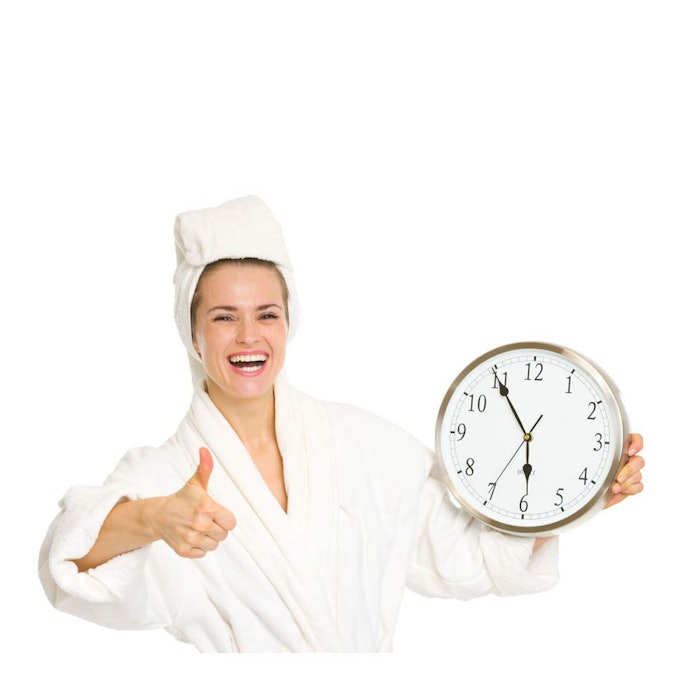 We are all busy, and many clients may not have booked at your spa in a while because they just do not have a few hours to spare. Sound possible? Why not consider providing mini versions of your most popular treatments to get their skin treated quickly.
Speedy spa treatments, ranging from 12 minutes to 30 minutes, are all the rage at hotel and resort spas according to a recent New York Times travel report. Listed below are highlights of places that have artfully launched spa quick-fixes according to The Times:
1. JW Marriott Hotels and Resorts
Spa by JW concept treatments last 12 to 25 minutes and can be booked without an appointment, The Times noted. They include scalp massages, shoulder massages and hand exfoliation and moisturizing. For instance, the 12-minute tension-release massage at the JW Marriott Houston Downtown is $25 (or $50 for 25 minutes) and the 12-minute hydrating hands treatment is $25 (or $50 for 25 minutes). 
2. Viceroy Snowmass
At Viceroy Snowmass in Colorado, ski-in/ski-out treatments are designed specifically to invigorate guests to get back out on the slopes and finish the day. Treatments lasting 30 minutes or less are: "Kick Off Your Boots" (30 minutes; $95), which includes a foot bath in warm water, a lemongrass mimosa scrub, cuticle grooming and a hot stone massage; and "Warm Up Your Hands and Toes" (30 minutes; $95), a deeply hydrating hand and foot therapy that starts with warm Concreta and nourishing coconut oil for deep conditioning and protection for hands and feet.  
3. 21c Museum Hotel
21c Museum Hotel in Cincinnati offers an express menu which includes 30-minute Swedish massages ($75), manicures ($30) pedicures ($45) and facials ($85).  A 10-minute chair massage is called the "See You in Ten" ($25).
4. On-demand treatments (anywhere)
Zeel offers massage appointments daily (including holidays) in major cities throughout the U.S. The Times report noted Zeel recently introduced Zeel Concierge, a service that allows hotels and spas to book appointments for guests who have needs that the hotel and/or spa can't immediately fill. Hotel concierges and spa staff can book appointments using Zeel massage therapists.
The Times added that similar services with apps such as Soothe, StyleBee and Glamsquad are finding success in the age of Uber, but it the 90-minute massage is still not doomed, it concluded.