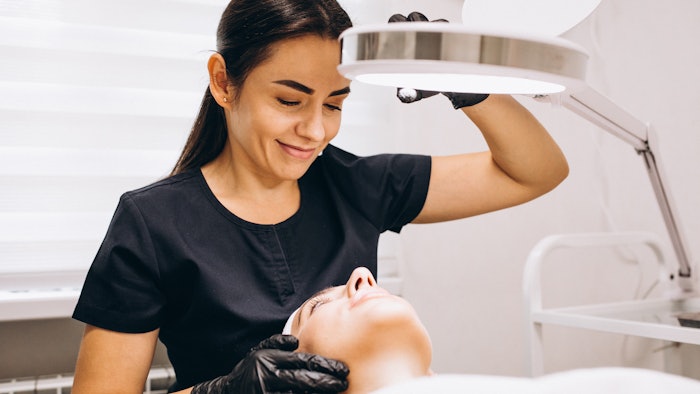 Fast facial options have been popping up more and more in 2023, with an increase in demand and popularity. Face Foundries, an all-inclusive focused facial bar, reported that they are expected to open 65 locations by the end of 2023. They provide an express facial bar concept with their mission to provide efficient and effective services always being at the forefront.
Related: 3 Aesthetic Business Models Attracting Gen-Z Consumers
Bring on the Fast Facials
Another example that shows the boom in consumers looking for fast facials would be Glowbar, which closed on a $10 million growth investment in January of 2023. Glowbar became a breakout spa star in New York with their concept behind 30-min. clinical-grade facials. Rachel Liverman, founder and CEO of Glowbar, even took the fast and effective concept to the next level by adding a wash bar, so time isn't wasted during the facial on something that anyone can do themselves. "We want everyone to have a dedicated 30 minutes of expert facial treatment, so we ensure no time is wasted taking your makeup off or washing your face–something anyone can do themselves. That's why we have a designated wash bar so clients can cleanse their faces themselves prior to their facials, allowing our expert estheticians to get right to business and get you the results you're looking for," explains Liverman.
Apart from spas that have a major focus on providing quick, custom and high-end spa experiences, many other luxury spas have also adopted the concept by offering mini facial bars apart from their full service menu. A great example of this would be Life Spa River North in Chicago, who provide an array of luxury services as well as quick and easy facials through their mini facial bar, which includes custom facials and signature Hydrafacial treatments. April Porter, lead esthetician at Life Time River North's LifeSpa explained that their decision to add a mini facial bar into their services actually came from the desire to want to provide and introduce skin care to everyone's budget and busy schedules. 
Skin Inc. reached out to some of these fast facial experts to learn more about this growing trend. 
What is a "Fast Facial?"
Rachel Liverman, founder and CEO of Glowbar, (RL): Fast facials are efficient, individualized facial treatments that can fit into anyone's schedule. While benefits may vary from person to person based on different skin needs and customizable treatments, the overall goal is to improve your skin, whatever that means for your client and their skin care journey. 
April Porter, lead esthetician at Life Time River North's LifeSpa (AP): A "fast facial" is typically 30 minutes long. It could be deep exfoliation with extractions, or it could be addressing hydration and calming irritation depending on the client's needs. It's also a time to talk about homecare regimens and answer any questions. This is a time for you to get to know your client!
Related: The Good, Old-fashioned Facial
What Benefits do Fast Facials Bring to Spa Guests? 
RL: Facial studios like Glowbar are something that can and should be part of your weekly or monthly routine; a quick and efficient facial you can fit in before or after work that doesn't break the bank. Getting consistent, professional treatments is crucial to maintaining glowing, healthy skin. Glowbar's expert facials (30 min., $65) are taking inclusivity to the next level by ensuring skin care can fit into anyone's schedule and budget.
At Glowbar, we really stand by "wellcare," which we define as the efficiency and expertise that we expect from health services, with the accessibility that fits into any lifestyle or budget. We're making skin care available to everyone by offering expert, no-frill facials that help consumers reach their skin care goals without the pain points of time or expense. Confidence is something else that facials can help with because when you look good, you feel good! Glowbar's singular mission is to make people feel confident in their skin, so we ensure that each treatment is customizable for an individual's needs. 
AP: Some benefits that fast facial provide include: deep exfoliation, clearing of blackheads, congestion and relaxation. It's also an opportunity to speak to guests about other treatments and home care products that suit them.
Why Are Consumers Turning Toward the "Fast Facial" Concept
RL: People are busy and are looking for ways to take care of themselves while managing their hectic schedules. Traditional spa treatments are typically something you treat yourself with; it's a long, relaxing process you want to soak in. Facial studios like Glowbar are for anyone and everyone–no matter your schedule or budget. Consistency is key, which is what makes facial memberships, the more practical, effective method for self-care. Getting a facial every 30 days will change your skin and your life! Professional skin care is also becoming increasingly a part of people's wellness routines. Consumers are not just going to the gym and getting a manicure weekly, they're also making facials a part of their routine.
AP:  Clients have busy lives! They want the benefit of maintaining their skin but might not have enough time for a 60 minute long treatment.
How Do You Provide a Relaxing Spa Experience in a Condensed Amount of Time? 
RL: We are a hospitality business, and we focus on the client first. Just because it's only 30 minutes doesn't mean you shouldn't have a best-in-class experience with our team and with our studios. We make the most of our time by having clients fill out an esthetician-led survey to better understand their needs and to determine a treatment plan, which can include dermaplaning, chemical peels, extractions, LED, microcurrent or high frequency. We also have a wash bar where clients cleanse their face themselves using our provided products so the estheticians can focus on the actual facial. Our best-in-class estheticians have put in 600+ hours of training and are there to identify the client's goals and apply the right, expert treatments to provide them with the results they're looking for.
AP: Giving a great spa experience comes down to giving a great consultation and understanding what the client needs and wants. I'll ask the right questions to figure out they're looking for and what is the best thing for their skin. Everyone will need something different. 
Related: Trend vs. Treatment: The Acne Facial
8 Key Takeaways
When it comes to offering or providing fast facials Liverman and Porter shared what should be kept top of mind including: 
Have a team filled with expert, passionate estheticians
Don't have surprise charges
Have simplified menus
Provide straightforward, customizable treatments
Save time where you can (e.g. Glowbar includes a wash bar for clients to wash their own faces, so it does not take up time during the actual treatment)
Allow for consistency 
Craft the services for clients to get the most bang for their buck
Consider your clients time and budget (see if offering memberships could work with your fast facial concept)
Top Benefits
If you're considering adding a fast facial option to your spa, there are definitely some benefits to come along with that. Some of the top benefits of these services include: 
Saves time. This means for your clients and your employees. Spa professionals have more time to fit in more clients with these shortened services. 
More accessible. Simply put, a less expensive and faster spa treatment option can allow for more accessibility in your spa for those clients that were either too busy or on a budget. 
Membership opportunity. Since fast facials revolve around the concept of maintenance, this opens up an opportunity for you to bring in membership options and concepts into your business. 
Trending. Adding these types of services to your spa space can also make you stand out in the crowd since these are trending services that consumers are looking for.