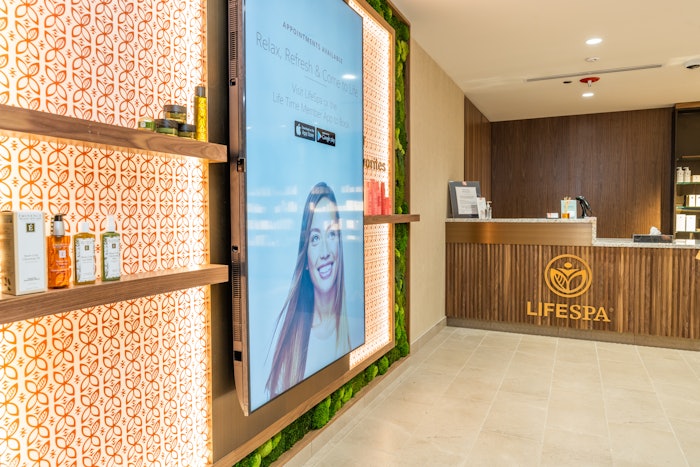 Photo courtesy of LifeSpa River North
LifeSpa River North: Chicago, IL
LifeSpa River North's vice president, Ali Yanez, sat down with Skin Inc. to discuss designing a spa space that elevates the client and staff experience.
1. Tell us about the aesthetic of your spa's interior and the emotion you are looking to evoke from customers?
At LifeSpa, it will feel as if times stops for guests receiving the best services in hair, skin, body and nails. The feeling is that our guests are in a prestigious, luxury resort far away from home, but it is a space for every day, not just a once a year visit. LifeSpa is also a social hub where our highly skilled beauty and wellness professionals are connected to their guests daily and anticipates their needs on the regular.
2. What inspired your design components and process?
International destination spa resorts, nature and the company we are lucky to be housed in, Life Time. For design components, we focus on a cross of earth tones and natural elements that create a sense of calm, and we combine that with technology to elevate the experience. We utilize the features and benefits of our Life Time building and businesses, as well as the community surroundings, to stimulate guests' and team members' senses.
3. What is the most important aspect to remember when designing a successful spa space?
The most important thing, and it may seem obvious, is doing your best to always keep in mind both the guests and team members. The guest should feel immediately calmer, happier and overall lighter upon entering the space — think of all their senses. For team members, it must be a working space that is physically comfortable to work in and aesthetically pleasing for them. Spa professionals are hardworking individuals often on their feet, so the space should feel like a relaxing and warm haven for them as well.
4. Does your spa have any unique features or design aspects?
Our spa lounge at River North is incredibly special because it's super tranquil and relaxing in color, comfortability and sound, but it sits high up within the heart of downtown Chicago. The space has large windows, so guests get a full, beautiful surrounding view of the city as they relax before and after appointments.
5. What advice would you give to someone who is designing their spa's interior?
Think about the people that will be in the space — everyone, not just the guests. How will it really serve your staff and be a place where they love to be at each day they come to work?