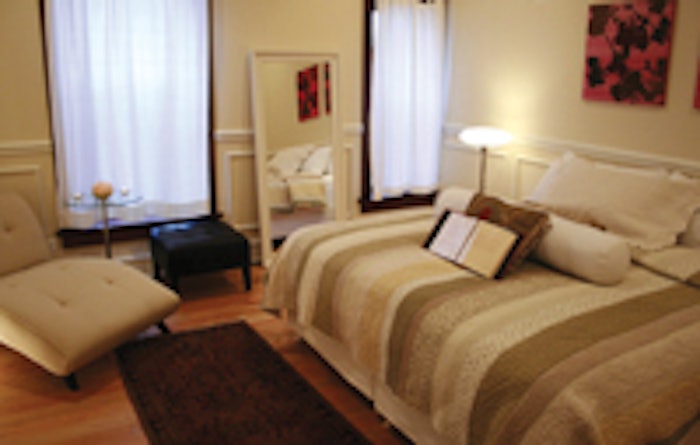 The brave entrepreneurs who embark on the obstacle-filled and often thankless journey of small business ownership do so because they have dreams of meeting the needs of clients better than anyone else can. For many spa owners, touching the lives of their clients and adding to their overall well-being are usually the driving forces behind opening a spa, and these goals are often met through incredible treatments and one-on-one customer service.
Sadly, however, in economic climates such as these, this may not be enough to keep your spa above water. Opening an additional revenue stream by literally adding on to your spa can help alleviate the profit expectation from your services and retail, and can set you apart from the competition, with each piece of the business working in tandem to bring recognition from clients from multiple walks of life. Guest rooms, salt caves and tea rooms are examples of add-ons that may be a perfect fit for your spa—and your pocketbook.
Guest rooms
Somewhere between large destination spas and hotel spas, a segment of spas exists that supplies several guest rooms as well as services. Rooms can either be added as an extension of an existing spa, as was the case with Ruby Room in Chicago, or they can be part of the plan all along, such as those offered at Reverie Spa Retreat in LaPorte, Indiana. Either way, they can open up your spa to not only a new revenue stream, but also to the ability to turn your current spa experience into a more well-rounded one.
Reverie Spa Retreat, LaPorte, Indiana. "Offering guest rooms was part of my original thinking," says Beth Warren, owner of Reverie Spa Retreat. "I wanted a retreat, and part of that is eating well and sleeping well, and it all ties in to wellness. The rooms added to the overall ambiance and wellness focus of what we planned." Reverie offers four guest rooms in the refurbished farmhouse that is home to the spa. The rooms offer a peaceful ambiance without the distractions of telephones or televisions, and most feature balconies looking out onto the pastoral landscape of the property.
Guests are welcome to stay at Reverie without participating in its spa services, but the rooms provide a bonus to spa visitors who seek a more well-rounded option. "People who are interested in retreating love to have a beautiful room to go to and relax in, and read and sleep. We like to entice people to take two days for themselves to retreat and get out of some of their daily habits. Two days gets them off to a decent start," says Warren, who does see additional revenue from the rooms that are priced at approximately $200 a night.
If you are considering offering rooms, Warren says the number of rooms will dictate your housekeeping costs, but aside from the rooms' upkeep, she sees them as an amenity to the spa. As for marketing, although the spa advertises an accommodation package to the Great Lakes region, word-of-mouth has been the best form of advertising for Reverie.
Ruby Room, Chicago. Ruby Room extended its brand by adding overnight rooms to its existing healing sanctuary in the historic Wicker Park neighborhood of Chicago. The property consists of two side-by-side buildings, fitting in with owner Kate Leydon's vision of offering a boutique hotel. "The guest rooms give people a place to come, enjoy the neighborhood, and heal and receive services in a less structured, more free-form environment," she explains. Ruby Room offers eight guest rooms that can be stayed in without spa treatments or can be enhanced with services. Guests work with a concierge who will help them customize a package of services to accomplish their wellness goals.
"The rooms give us flexibility in what we are able to offer guests. We even have ministry services and can facilitate weddings, so you could have a wedding in the garden or sanctuary, and have services before and after for an intimate wedding experience," says Leydon, who notes that the guest rooms also open up the ability to host retreats.
As far as revenue is concerned, the rooms definitely add to the bottom line. "They are phenomenal because the overhead on a room is not nearly as much as the overhead of a high-end treatment. It's an incredible way to offset," she explains. "In the summer, when the spa experiences less traffic, the rooms are in peak season. They have become more and more popular for people who are coming to the city, but want somewhere hip and groovy they can enjoy. There is a great balance in terms of revenue."
Although the rooms provide a great revenue stream, Leydon advises that you need to consider your location carefully. "Wicker Park is a great place to come and shop, and it has unique businesses. There's enough to do in our neighborhood for a weekend," she says, suggesting you weigh the appeal of your location before considering offering guest rooms.
Leydon also warns that there are specific demands that come along with overnight rooms, including laws and licensing processes that vary by state. "You have to be very clear in all of your literature about what you are and what you are not. You have to be honest to the bone and be hyper-specific about what you provide so you aren't overselling and under delivering," she explains.
Marketing in multiple venues, such as online reservation Web sites, is also important, although it presents another line of challenges that you need to navigate. "You open yourself up to a wider susceptibility of people posting negative online reviews, so you have to do multiple things very, very well," Leydon says.
Also, she and her husband are on-call for any late-night emergencies, and her team members manage the nuances of the rooms. Another interesting revenue stream at Ruby Room: The design and decor elements have been handpicked and are for sale.
Salt caves
More and more often in the United States, spas and wellness centers are opening salt caves, which are literally man-made caves with salt lining the walls, floors and ceilings. This concept is actually an age-old practice that originated in 19th-century Eastern Europe and is based on speleotherapy, a respiratory treatment enjoyed in old salt mines. The inhalation of salt particles from the salt cave environment is claimed to help alleviate respiratory afflictions, as well as various inflammatory complaints.
Timeless Spa & Salt Cave, Naperville, Illinois. Timeless Spa opened the doors to its Himalayan salt cave in August 2009. Owner Jody Buckle was inspired to take on this venture after enjoying another salt cave's benefits, and after receiving her landlord's approval—and his construction help because he is a commercial builder by trade—she did a lot of research about how to build the most unique and beneficial cave. "I always want to offer something different that clients can't get at every spa. As a small business owner, you have to get people to come to you for something different, and then they can see what else you offer," says Buckle.
After doing plenty of research on the Web and getting estimates and advice from a variety of overseas salt cave designers, she decided to hire a Vermont-based holistic doctor as a consultant to build the 12-foot by 26-foot cave, which is made up of 10,000 pounds of Himalayan salt on the walls, as well as a layer of salt on the floor. Himalayan salt is often considered the highest quality of salt for its therapeutic benefits and its resilience, being as old as the Himalayan mountain range from which it is mined.
Although the initial investment of approximately $200,000 sounds like a lot to handle, Buckle got a loan and completed a business plan in which she expects to see a return in three to five years. However, the current interest and return visits are making her return-on-investment seem easier to obtain than first expected. A 45-minute session costs clients only $20, and they are available at various times per day for a maximum of eight people at a time.
Clients are asked to wear white socks in order to keep the floor salt clean, and after entering the cave, they find a seat in a comfortable chair and wait for the lights to dim. Then, a recorded voice starts a brief guided meditation and LED lights in the constructed white stalactites on the ceiling twinkle in time with the sounds of ocean waves. Clients lay back in the reclining chairs and relax, breathing in the salt-satiated air, until the session is completed. "After 45 minutes, our clients are ready to face the world," says Buckle, who is also finding many are returning to enjoy the salt cave's benefits.
There is very little immediate overhead and no additional esthetic staffing needed with this model, although Buckle plans on replacing the floor salt in two to three years. Also, she is learning as she goes and adapting the room's temperature for winter-in-Chicago temperatures.
"People who have driven by my spa hundreds of times wonder what the salt cave is. They end up buying things out of my gift shop, and I'm able to introduce my spa services to them," Buckle explains.
The Salt Cave, Naples, Florida. The Salt Cave features floors, walls and a ceiling constructed in pink Himalayan salt. The space is 20 feet by 20 feet and can accommodate eight or more people. Unlike Buckle, owner Andrea Geresdi opened the salt cave and is currently developing spa services, not the other way around, and the inspiration came from Geresdi's native Hungary where she experienced natural salt caves. "I opened the salt cave to focus on the therapeutic benefits of salt, and I'm adding services slowly, but surely," she says.
One of the details that sets apart Geresdi's salt cave is a salt generator, which produces dry salt aerosol in the air at all times and can vary based on the clients' needs. A 45-minute session for adults is $45 and for children under 10 is $35. Packages and private sessions are also available.
Geresdi also employs an acupuncture therapist and has added services such as Chinese medicine and salt massage, as well as meditation, yoga and spiritual development classes. "I am really driven to offer many different holistic approaches to my clients," she says. "A salt cave is a wonderful way to offer something new, and is a very beneficial service on your menu."
Tea rooms
Reaching deep into the hearts of little tea party-playing children everywhere, tea rooms make the delicate pleasures of afternoon tea a very real experience. Spas that offer this amenity often find it is a good fit with their clients' ideals, and is a nice way to supplement spa income and spa loyalty all at the same time.
Adagio Day Spa & Tea Room, Abington, Pennsylvania. The tea room concept evolved for Adagio Day Spa & Tea Room when the spa offered tea services with mini sandwiches, tea and desserts during a Mother's Day promotion. "People just loved it, so we decided we had to keep it. They loved lounging and relaxing with friends in their robes during spa services," says Susan Shaw, the spa's owner. At that time, Shaw was renting space, but was in the market for a new location, and chose one that would house a tea room. "We are now in a small stone cottage with built-in window sills and hardwood floors, and it is perfect for a tea room," she explains.
The tea room is open every day, although Shaw clarifies that it isn't a restaurant. Clients can lounge in the tea room before or after services, and complimentary lemon water, tea and fresh-baked pastries are available. For those who want high tea, which includes sandwiches and special desserts, along with tea and scones, it costs $14.95–16.95 per person, and 48-hour notice is necessary.
Although people can enjoy tea separately from spa services, many combine the two experiences. "There are clients who add it on to their spa day, such as sisters, friends, and mothers and daughters," explains Shaw. "We also offer a children's tea that is $9.95 per person and services can be added on with that. They get a choice of kid-appropriate sandwiches, such as peanut butter and jelly on cut-out breads, as well as cookies and fresh fruit, and they can also have tea, if they wish."
Although she doesn't make a huge amount of profit from the tea room, Shaw says it is a draw for her spa. "People will come in and have the tea plus services, but I'll make more money for the services. It's a different concept. They're looking forward to sharing time with each other. They sit around and laugh and gossip, and the tea room is separate from the reception area, so they have privacy." The room has also been used for bachelorette parties, children's birthday parties and as a meeting room.
Word-of-mouth is the best marketing for Adagio, but Shaw also creates postcards to be passed out in the town's business district, updates its Web site regularly and performs e-mail blast marketing to its client database. Shaw also advises that expensive china isn't necessary. "It has a tendency to break. I shop the thrift shops and look for hand-me-downs," she says.
Le Chateau de Frenche Day Spa & Private Tea Room, Brooklyn, New York. Before the owner Nikima Frenche opened her business, she decided a tea room would be an aspect that would set her business apart. "I attended a culinary institute, and a woman from the Waldorf Astoria came in to talk about the tea service. After that, I had tea at various venues, especially in high-end hotels, and that's where that piece came from. When I started the skin care portion of my business, I wanted to figure out what my differential experience would be, so that's where the combination of spa and tea started," she explains.
Tea can be enjoyed separately from spa services, but Frenche commonly uses the tea room as a way to bring clients into the spa. "When people see my tea room, they get curious. When people walk in for afternoon tea, they get information about spa services; we have menus and a video commercial that plays," she notes. The property also combines spa parties with tea. "It's not just a cup of tea," emphasizes Frenche. "We offer a tea room with china and tiers and everything; white tablecloths and pretty flowers. Those details are integral to our success." The tea room offers customers their own teapot, as well as crumpets and saucers with doilies, for the full tea room experience.
Frenche says the tea room brings in revenue, but isn't a huge markup. It is open during certain hours of the day, and with spa treatments, it serves as a nice amenity. "Recently, we hosted a book club for women who had full afternoon tea and no spa services, but now they know we have spa services," says Frenche, who is featured on SpaFinder.com and also sends out e-mail blasts targeted to each client based on their interests. "We include a tea special with a spa special so they can get the best of both worlds, and our VIP service membership includes free afternoon tea, plus they can give their friends a coupon," says Frenche.
Le Chateau de Frenche required a food handling license, but has partnered with other local businesses for the pastries served. "It's easy, and you don't have to spend a whole lot of money when you are partnering. I let customers know where I get my pastries, and the bakery gets additional business. I'm very much about partnering and uplifting other local businesses," says Frenche, who advises that it is important to have adequate space if you are offering tea services. "Learn about the tea business. Be detail-oriented. It's not something you can start and not pay attention to."
All your eggs in one basket?
Often, a smart business strategy is not to have all your eggs in one basket, so to speak. If your spa is solely relying on services and a little bit of standard retail to succeed, you may find your profits waning during the economic downturn.
Why not take a close look at your clientele and try to see beyond your immediate capabilities to figure out whether an alternate revenue stream is plausible for your business? With thorough research and the passion that made you an entrepreneur in the first place, you may find a way to improve and extend your business's profitability, and enhance client loyalty in the process.