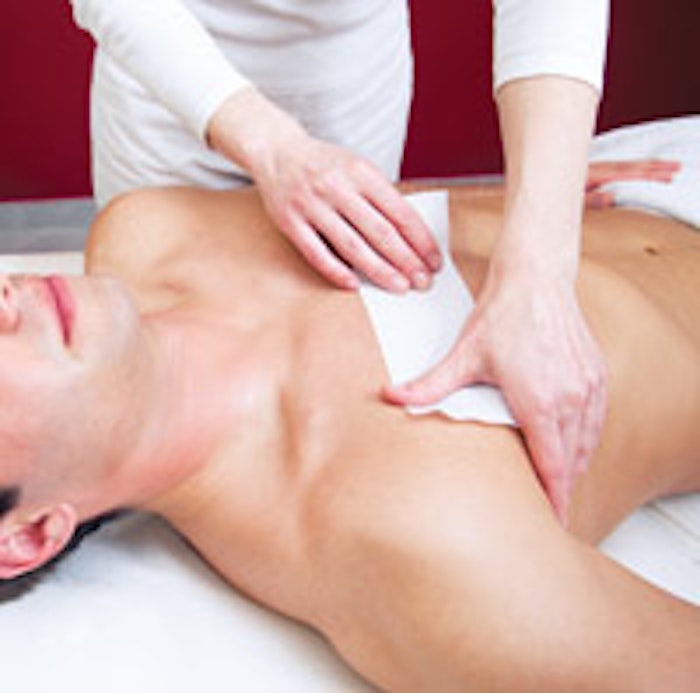 It may seem hard to believe, but 47% percent of spa-goers are male, according to the International Spa Association (ISPA). Men are no longer secretly sneaking their partners' skin care creams and masks—they are embracing skin "man-tinence" and are openly taking care of their appearances. It is a new dawn for the skin care industry and an exciting expanding market for spas.
Be prepared
Is your spa ready to welcome this influx of men? It is important to make sure that skin care facilities take measures that allow men to feel comfortable—not out of place.
Guys Night at the Spa. One way to make them feel welcome is by hosting a male-themed Guys Night at the Spa. Find out when the next big sporting event is being broadcasted, and invite clients who are sports fans to join together at the spa for the game. Normally, healthy, clean foods in the spa are suggested, but for game night, consider switching it up—serve bite-sized munchies, such as pigs-in-a-blanket, Swedish meatballs and pretzels. When it comes to drinks, stock up on cold beer and scotch. This is probably not going to be your cucumber sandwich and champagne crowd!
Male-specific services. Create a special category on the treatment menu to showcase male-specific services. When it comes to men's skin care, the rules of the game are a little different than they are for the ladies. Men are plagued with larger pores and sebaceous glands, and their skin tends to be characterized by excess oil and blackheads. At the same time, male skin is often dehydrated from the drying soaps and shampoos they use, and the hot showers they take. This combination of dry and oily skin can be confusing when it comes to choosing a skin care regimen. Men need treatments that are both hydrating and deep-pore cleansing, which helps balance oil. They also don't want to spend all day at the spa—so include express treatments. Catering to men does not necessarily mean the spa needs to carry a whole new skin care line targeted at males. The treatments and products needed for male clients are probably already in the your skin care facility's repertoire—men just need to know which treatments and products are best for them, and creating a men's menu will do just that.
Identifying male-specific treatments
Male clients should visit the spa for a facial treatment once a month. Also, it is valuable to choose retail and back bar products that cater to the male client and his skin needs. Important ingredients to look for include alpha bisabolol, oxysome and thiotaine to calm and soothe inflamed skin, and argireline hexapeptide to target expression lines. Men need products with ingredients that work in a minimal amount of time—although they are becoming more and more aware of the appearance of their skin, most are not spending hours each day maintaining it.
Facial treatments. For a super express treatment, provide them with a hydrating and clarifying sheet mask, which is quick to administer and results-driven. Men often see the first signs of aging around the eyes—they tend to have crow's-feet and dark, under-eye circles from squinting at computer screens at work and home, and playing video games. Because of this, a contouring eye treatment should be on the menu, which is perfect for a lunch break pick-me-up. Many males also spend a fair amount of time outside doing yard work, or attending and participating in sporting events, which can cause wrinkles and hyperpigmentation. To help alleviate concerns that arise from this, provide them with gentle exfoliation and anti-aging treatments.
Body treatments. If male clients are regulars at the gym, they can also benefit from body treatments. Due to the general oiliness of male skin, body acne can often be a problem. Provide male clients with a deep-cleansing back treatment. A detoxifying thalassotherapy body mask will help alleviate sore muscles, eliminate toxins and leave skin feeling soft. End the treatment with a massage, allowing for the stress of the gym to be left at the spa.
Waxing. Hair maintenance does not just mean haircuts. As men age, they begin to get excess hair in and on their ears and noses, and on their backs—male clients can definitely benefit from various waxing services.
Manis and pedis. Don't forget about their hands and feet. Monthly manicures and pedicures will help get rid of any calluses or dirt buildup from doing work around the house. Keep it simple with a nice hand and foot cleanse, scrub and massage.
Home care. Be sure to send them home with retail items! Men are great to retail to, because they take expert advice well: Men spent $2.56 billion on grooming products in 2012, according to Mintel. See Daily Regimen for Male Clients for the proper daily steps for male skin care at home.
A strong relationship
The possibilities are endless when it comes to providing men with quality spa treatments. Once a strong relationship is established with male clients, they will be willing to try anything you offer them. Good skin is genderless.
Lydia Sarfati, president and founder of Repêchage, is an internationally recognized skin care expert quoted in Vogue, InStyle, Glamour and The New York Times, and she has been featured on CNN, CBS and Fox. Sarfati has more than 30 years of experience as an esthetician, spa owner, manufacturer and consultant, and is a member of Skin Inc.'s 2014–2015 Editorial Advisory Board.