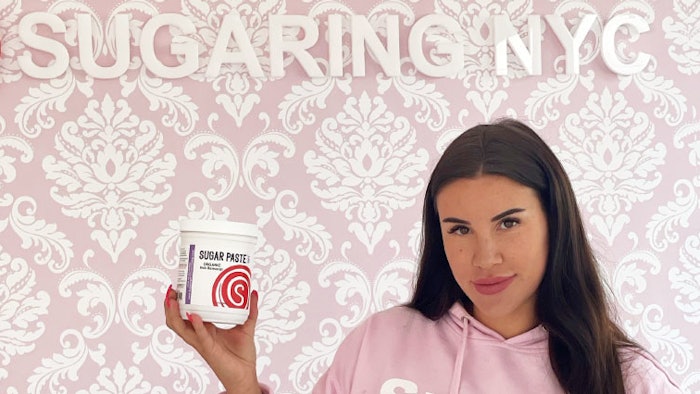 Photo courtesy of Daria Nartov
Daria Nartov, founder and managing partner of Sugaring NYC, surprisingly got her start in finance on Wall Street, but the moment she found sugaring, she instantly fell in love. Nartov found a need in New York for sugaring studios. This need would eventually grow into a franchise with more than 100 locations nationwide. The first-generation business owner gracefully transitioned from running her own business, to expanding to multiple locations and hiring and maintaining full salon staffs. As an industry vet who prioritizes the importance of constantly advancing education, Nartov urges pros to not only obtain new information, but also put the information to work in real life. As long as clients have a need for natural beauty practices, sugaring will remain at the forefront. Nartov sat down with Skin Inc. to discuss the basics of being a franchise salon owner, her latest introduction of laser hair removal technologies into her locations, and so much more in our exclusive interview.
Skin Inc. (SI): How did you get started in the industry?
Daria Nartov (DN): In 2012, when I moved to New York for college, I began searching for a place that offered sugaring for my bikini waxing. I used to do sugaring in Russia all the time, so I was surprised to discover that no one in New York was providing that service. I tried shaving and visited multiple waxing salons, but none of them worked for me. This is why I decided not to miss the opportunity to bring sugaring to New York. In 2014, I started offering sugaring services as a side hustle, and I could never have imagined that it would eventually grow into a real business with over 100 locations nationwide.
SI: What were some of your first jobs out of school?
DV: I started doing sugaring in 2014 while still being a full-time student at Pace University, getting my degree in business economics. I had some internships at finance firms on Wall Street, but I never really enjoyed those jobs. It actually always made me upset because I felt bad about wasting all that time and money on an education that turned out to be something I didn't like. That's why I'm very grateful that sugaring came into my life. As soon as I started doing it, it always felt right, as I've always had a passion for beauty and skin care.
SI: What's your most valued experience?
Related: Should You Make the Sweet Switch to Sugaring?
DV: My most valued experience was the transition from being a one-woman operation to establishing a salon with other people working alongside me. It's relatively easy when everything relies solely on you, but once you start hiring other people, you need to continue doing your job perfectly and ensure that your employees represent your brand correctly. When you have regular clients who have experienced services provided by the owner, it becomes challenging to meet their expectations once they start receiving services from your employees. You need to constantly work on quality control and provide ongoing training.
SI: Who are some of your biggest mentors?
DV: I don't really have a mentor. I can say that my husband (Dmytro Nartov) and I are trying to mentor each other. He quit his job in 2015 when he saw that I was having success with my sugaring business and joined me on this journey. Ever since, we have been trying to figure everything out by ourselves. We are both immigrants and first-generation business owners. However, nowadays, there is so much information available online, including many great interviews on YouTube with people in the industry. All of these tools make it possible to become a successful business owner without actually having a mentor.
Continue reading out EXCLUSIVE interview with Daria Nartov in our November Digital Magazine...