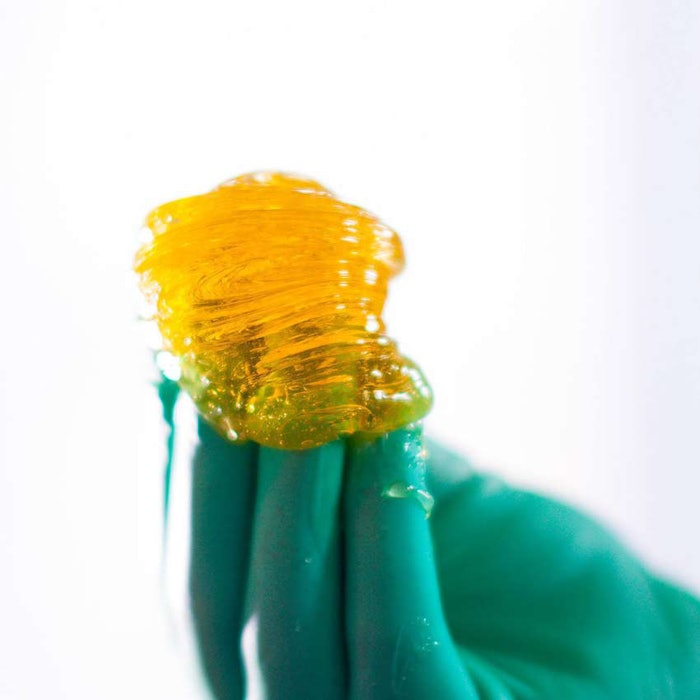 There has been a lot of talk recently about sugaring as a way to remove unwanted hair with sugar. Some first think hair is scrubbed off with sugar, but it is actually an ancient form of hair removal utilizing a paste that is rolled smoothly over the skin to remove unwanted hair.
Although it started in the days Cleopatra, body sugaring has been a hair removal technique in the United States for quite some time. However, only in the last few decades has sugaring begun to catch on. The reason-- estheticians are seeking more natural and organic methods of skin care to meet their clients' needs. Once they make the sweet switch from waxing to sugaring, both estheticians and clients are hooked.
Sugar paste is made simply from sugar, lemon juice and water. At room temperature, the paste is spread, or "molded" onto the skin against the direction of hair growth. The sugar seeps down into the hair follicle and wraps itself around the shaft of the hair. When the sugar paste is flicked off in the direction of hair growth, the entire hair including the bulb slides out naturally in the direction it grows. Complete removal of the entire hair is achieved because the sugar wraps around the whole hair down to the dermal papilla. Alternatively, wax sits on adheres itself to the hair above the surface and pulls the hair against the direction of its growth pattern, which can lead to ingrown hair, inflamed skin and irritation to the follicles.
Client Benefits
Those clients with sensitive skin and varicose veins can be treated safely and effectively with sugar paste. Clients are appreciative for the experience of body sugaring because, done properly, the experience is less painful, the skin stays smoother longer and it leads to a significant reduction in hair growth over time. Clients value being able to go about their day immediately without pain, redness or irritation.
Sugar clients love how long it takes for the hair to grow back, if at all, after treatment. They notice that after just a few visits, their hair grows back less dense, more refined and with noticeably less breakage. Because the hair is extracted in the early anagen phase, sugaring can achieve a more complete removal of the entire hair and a more permanent hair removal over time. Clients see superior results after just a few treatments.
Practitioner Benefits
Reasons for a skin care professional to switch to body sugaring include: easy setup, smoother results and less traumatized skin, just to name a few. Room setup for the treatment is simply prep product, gloves and a small ball of sugar paste. Only one ball of sugar is needed per body part, so no more back and forth to the waxpot or double dipping.
Sugar paste can be used for all parts of the body. Sensitive areas such as upper lip, chest, and bikini are easier to treat because sugar paste makes it safer and easier to remove hair without fear of causing damage to the skin. Sugar does not adhere to live skin cells, but rather dead skin, which means that clients with eczema and dry psoriasis can even be sugared. The paste is gentle enough to pass over the same area of skin more than once to extract the shortest of hairs without causing skin damage or irritation.
Business Benefits
As I always say, "happy clients mean happy books!" Sugaring has provided certified estheticians with an alternative to waxing, which sets them apart in their area. Clients are now seeking out practitioners who are skilled in this art. Sugaring distinguishes your business for clients looking for the treatment in their area. Once a client is sugared, they almost always stay loyal to your services and regularly book every 3-5 weeks.
While a sugaring professional is working with her client, she has her undivided attention to cross-promote other services. Clients like to talk during their appointment, and it gives the esthetician quality time to discuss their skin and suggest services that the client might need. Clients will feel comfortable with your knowledge and skills and are willing to try the other services you offer. By focusing in on their needs, you can really have a quality opportunity to boost your business.
Some estheticians are skilled and fast with their wax skills and don't feel the need to learn about other forms of hair removal. My suggestion is this: if you are a waxer, you owe it to yourself and to your clients to understand what this technique is so you can have an intelligent and informed conversation with them about the service. You might not switch your business to body sugaring, but you will be able to talk with you clients about why you decided not to switch.
Esthetics and cosmetology schools are beginning to educate their students about this method, and their students are graduating hungry to set themselves apart. Body sugaring is a bit tricky to master, and it truly does require patience and practice. Understanding the consistency of the sugar, retraining your brain and hands to break your old techniques and perfecting the mold and flick will be a challenge. But it is all worth it once you see a happy, hair-free client.
5 Ways to Start Sugaring in your Practice
1. Get sugared. Experience this sweet treatment yourself.
2. Talk to a body sugaring practitioner. Determine if this service is right for you.
3. Get certified. You must be a licensed esthetician and certified to order sugar paste.
4. Practice on everybody you know. This treatment is not as easy as it looks.
5. Make the body sugar switch. Create a sweet theme to get your clients excited.