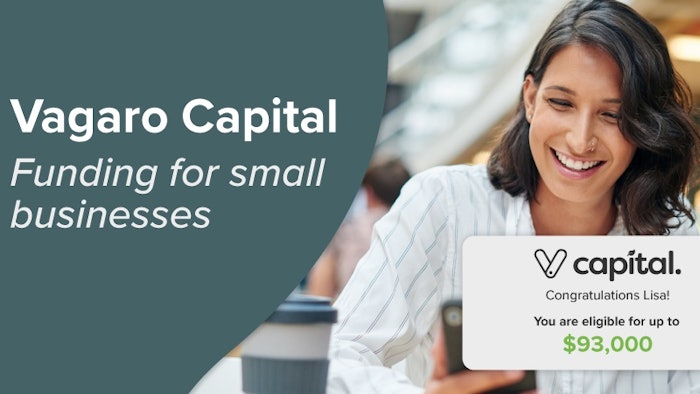 Photo Courtesy of Vagaro
Vagaro has launched a partnership with Liberis, a leading global embedded business finance platform, to offer revenue-based finance to more than 220,000 service providers. The initiative, named Vagaro Capital, is designed to help small businesses by leveraging the funding needed to grow. Within the first month of launching, Vagaro Capital provided nearly $3 million in funding to more than 200 merchants, according to the companies.
Related: Massage Therapy School Spa Announces Partnership with Vagaro
Revenue-based finance is an alternative finance product where eligible merchants can receive an advanced sum of money with the stipulation they will pay back the sum in addition to a pre-agreed fee. Vagaro Capital offers fixed-cost financing with flexible payment terms. Merchants can complete an approval and underwriting process and receive the funds within hours of applying, according to the companies. The entire process is managed within Vagaro's ecosystem. The companies plan to expand the offering into the U.K. market.
In November of 2022, Vagaro introduced Vagaro Pay Later, which offers higher conversion rates and a higher average ticket value for businesses and more flexible payment options for consumers. Vagaro has helped its businesses book more than 600 million appointments and has processed more than $15 billion in payments. Liberis has funded almost $1 billion in more than 55,000 transactions. Alongside Barclays and BCI Finance, Liberis is backed by investors including UK-based venture builder Blenheim Chalcot and US-based growth investor FTV Capital.
Fred Helou, CEO of Vagaro, says, "Our team is excited to witness the future expansion of our businesses, made possible by the financial flexibility provided by Vagaro Capital. It's always beyond rewarding to see our business owners able to achieve their business growth goals."
Rob Straathof, CEO of Liberis, says, "We are thrilled to help Vagaro's merchants further grow their businesses. As an embedded offering, Vagaro's customers obtain access to personalized finance, whenever they need it and for the right opportunities, helping their businesses grow faster."