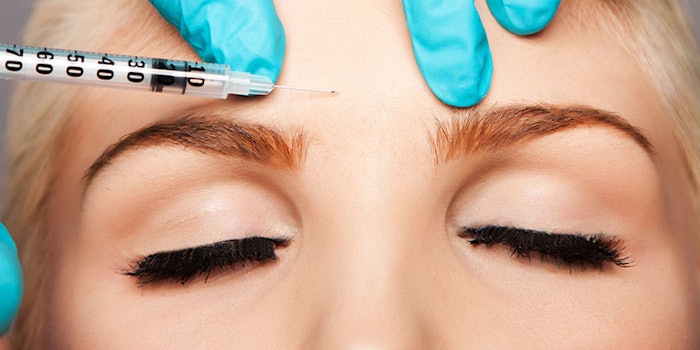 There may soon be a new neurotoxin on the market—Evolus Inc.'s botulinum toxin type A formulation is meant to treat adult patients with glabellar lines (frown lines). Evolus, a subsidiary of Alphaeon Corporation, submitted a Biologics License Application (BLA) for DWP-450 to the Food and Drug Administration (FDA) last month.
The product is in the same regulatory class as other approved neurotoxins in the U.S., including Botox, Xeomin and Dysport. To avoid pre-approval commercialization, the product's specific attributes are not yet available.
Put to the Test
The neurotoxin was licensed from South Korea-based Daewoong Pharmaceutical in 2013. Four clinical trials were then conducted to test the product's safety and efficacy, including two open label, repeat dose and long-term Phase II and two randomized, multi-center, double blind Phase III trials.
While the product's release date is not yet known, its progression to commercial launch has moved rather quickly thus far, with Evolus' BLA submitted in less than three years after the first patient's clinical trial enrollment.
"A large majority of [the Evolus team] come from Allergan, so there is a very broad depth of experience and knowledge with this team in the esthetic marketplace. … We come with a wealth of knowledge," said September Riharb, VP of marketing, Alphaeon.