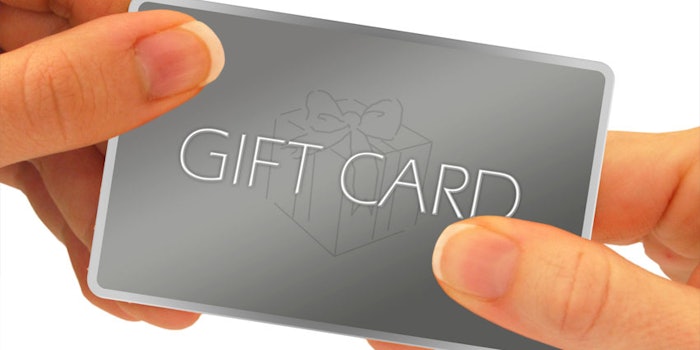 The holiday shopping season is upon us, and as we all know, one of the ways retail stores—including day spas—have been boosting end-of-year sales is through selling gift cards. They are a great, minimal-effort gift idea, a starting point for up-selling and a way to gather cash-on-hand immediately while creating an opportunity for return consumer business in the future. 
Medical spas often have a lot in common—in form and function—to retail stores, traditional spas and salons, and retail sales and gift card sales can benefit medical spas just like these other businesses. However, because medical spas involve the practice of medicine, there are a number of legal issues that prevent them from using gift cards in all of the same ways a day spa might. 
For instance, client referral programs commonly reward gift cards to customers for bringing friends to the business, and loyalty programs often offer gift cards for a certain dollar amount spent or number of purchases. 
In most states, medical spas cannot engage in either of these practices. 
The Don'ts
The way many state laws have been interpreted, providing anything of cash value in exchange for medical service can be represented as sharing medical revenue with a physician. 
This is known as "fee-splitting" and is illegal in states that have laws on the books regarding the "corporate practice of medicine," which means that medical revenue must be paid in full to a physician or a physician-owned corporation. If a physician is caught in violation, it can result in fines and/or suspension of license. 
Additionally, many states also have anti-kickback laws to specifically prevent physicians from paying for referrals. The laws exist to encourage practice building through excellent care rather than potentially "buying patients," and giving gift cards to patients in a medical setting can cross this line since the cards have a cash value attached. 
This doesn't mean you can't express appreciation to your loyal medical spa patients and customers—there are just specific paths you have to take. 
The Do's
First, since medical spas set their own prices, providing repeat patients with a discount—for instance, purchase 10 treatments and get the 11th half-off—on a service is a much better practice than giving a gift card or other cash-equivalent.   
Though some very conservative attorneys consider this to be fee-splitting, there isn't much case law to support this concern. 
Second, VIP programs involving special events and/or discounts are ways to make consistently returning patients feel rewarded without actually giving them a cash-equivalent. These programs reinforce loyalty among your more frequent patients and can naturally lead to referrals without extra incentive from you. 
Third, some medical spas offer programs allowing patients to accrue points and ultimately redeem them for treatments. These programs do skirt the line of legality since it could be argued that the points do represent monetary value. Offering points on retail sales (skin care items, for example) or strictly cosmetic treatments, like facials; however, may be a safer way to implement this kind of structure. 
Gift Cards, Discounts and the Law
It may not seem like there's much of a difference between handing out cash value on a gift card and giving a discount on a treatment, but with regard to the law, the distinction is important and could be the difference between operating compliantly or getting hit with fines and other penalties.
Because there are so many different laws and regulatory agencies governing medical spas, it can be very difficult to find and decipher what is and is not appropriate and legal for your business. Be sure to consult with a local healthcare attorney to find out about laws governing kickbacks and fee-splitting in your state. 
Members of the American Med Spa Association can access their database of state-by-state legal summaries and receive member pricing for attorney consultation through our affiliate firm ByrdAdatto.
Avoid legal issues with your medical spa by making sure you are on top of the latest medical spa regulations and business practices. Skin Inc. and Face & Body Midwest have partnered with the American Med Spa Association to offer an entire day of medical spa education and training on Jan. 21, 2017.