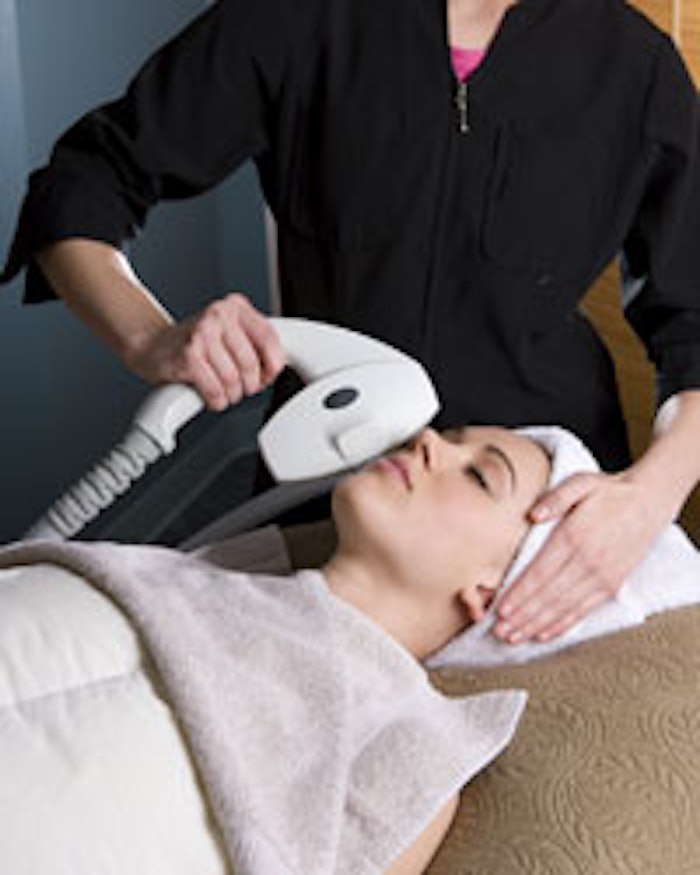 By adding low-level laser therapy (LLLT) services to the menu, a skin care facility can effectively grow its business while enriching clients' experiences. LLLT is a clinically proven form of safe light therapy that has successfully been in use for more than 35 years in medical and scientific fields throughout the world.
LLLT basics
LLLT is cold laser technology, working on a cellular level to help repair and rejuvenate damaged cells in the skin, organs, bone, muscles and soft tissue. The cold lasers are hand-held devices with laser diodes—conductors that allow small, focused beams of emitting light. LLLT treatments help stimulate blood flow, increase endorphins, release tight muscles and reduce inflammation.
LLLT uses and benefits
LLLT is versatile—it can be added to any existing protocols or can be used to create stand-alone services. Massage therapists may use LLLT devices to relax clients and ease chronic pain from muscle tension, tendonitis, arthritis and fibromyalgia.
Laser therapy helps soothe chronic skin conditions, such as acne, eczema, psoriasis and rosacea. LLLT devices also address aging by fighting against free-radical damage, and stimulating collagen and elastin production, as well as helping to break down scar tissue. As LLLT devices soothe inflammation, they are especially helpful after exfoliation, chemical peels, or for post-operative skin care in a medical spa facility. Be sure to research local health laws to see if LLLT is within the scope of practice of your license.
Massage and skin care upsells
The addition of LLLT will turn any massage or skin care treatment into an enhanced service. Adjust costs to add at least a 20% increase to service tickets. Alternately, LLLT can be offered as an upgrade to massage or skin care treatment with a competitive price to other upsells. As LLLT creates an enhanced delivery system for skin care products, an upgrade centering upon the appropriate professional product can also be created. The laser will allow the product to penetrate deeply into the skin to really enhance client results. Apply the laser over acupressure points in the face to help soothe congestion or sinus pressure.
Alternative therapies
LLLT goes hand-in-hand with alternative and energy therapies. As the body's own energetic matrix is being accessed for treatments, laser therapy has an energetic component in addition to biological. Any form of energy medicine can be augmented by LLLT treatments, including Reiki, healing touch, acupuncture and shiatsu. Look for laser systems offering downloadable upgrades—modes and frequencies for users to access from their computers. These will provide an almost unlimited potential for new frequencies, applications and healing results.
Client communication
Market LLLT services in all client communications, including e-mail blasts, newsletters, social media posts and direct mail pieces. Entice clients to try laser services with discounts on facial or massage series purchases, offering a free service after a series of six. Because LLLT treatments generally take only 10 minutes, they are an easy add-on to any service and can be offered at a discount of 10–15% for first-time users.
LLLT laser therapies have been studied by NASA for the treatment of astronauts in space, and used in extreme environments, such as Antarctica, where cells are slow to heal, as well as in war zones for the quick, efficient treatment of injuries on the battlefield. Now, wellness centers and spas are using this innovative technology for the latest massage, skin care and energetic applications. Increase your business revenue by adding LLLT laser services to your spa menu, while also offering your clients enhanced wellness results and a more balanced, healthy body.
Jenny Hogan is the media director at Marketing Solutions, Inc., a full-service marketing, advertising and PR agency specializing in the professional beauty business. Hogan can be contacted at 703-359-6000 or mktgsols@mktgsols.com.