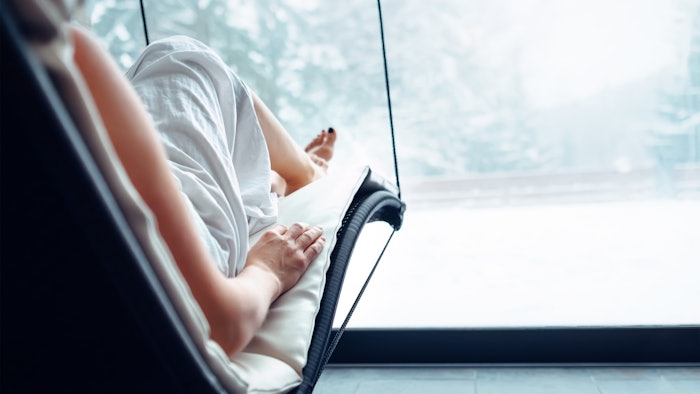 Soloviova Liudmyla - stock.adobe.com
SpaSpace Chicago has revealed the Wellness Lounge, a space that seamlessly merges clinical, science-backed services with an inviting ambiance steeped in hospitality. The lounge features advanced technologies and therapies along with exclusive membership benefits like priority booking and retail discounts.
SpaSpace Chicago's Wellness Lounge includes Higher Dose PEMF with binaural meditation loungers, 650mm red light therapy, HydroMassage, contrast Aroma Steam Showers and Infrared Saunas. Guests can choose one modality or try a wellness circuit. These advanced therapies cater to diverse goals and promote longevity by fostering cellular repair, enhancing skin vitality, aiding muscle recovery, inducing relaxation and facilitating detoxification.
Related: Massage Envy's First Concept Store Opens with Recovery Zone, Enhanced Services Rooms & More
The Wellness Lounge at SpaSpace Chicago is available for both private and group events, offering a versatile venue for celebrations, corporate parties, and group outings. Members gain privileged access to an array of services, enjoy priority booking and retail discounts and access various benefits, all designed to embrace a holistic well-being lifestyle. SpaSpace Chicago is hosting a Wellness Lounge launch party on Monday, October 2, 2023, with guided tours, complimentary wellness sessions, and special surprises.
"As we witness the convergence of new wellness technologies and the surging demand for wellness experiences, SpaSpace Chicago's Wellness Lounge is at the forefront," said Ilana Alberico, a wellness industry expert who worked with established and emerging wellness technology companies to bring the Wellness Lounge brand and vision to life. "We're thrilled to see companies in the West Loop investing in our exclusive wellness memberships as a vital component of their employee wellness strategies, embracing a future where well-being is a shared priority."