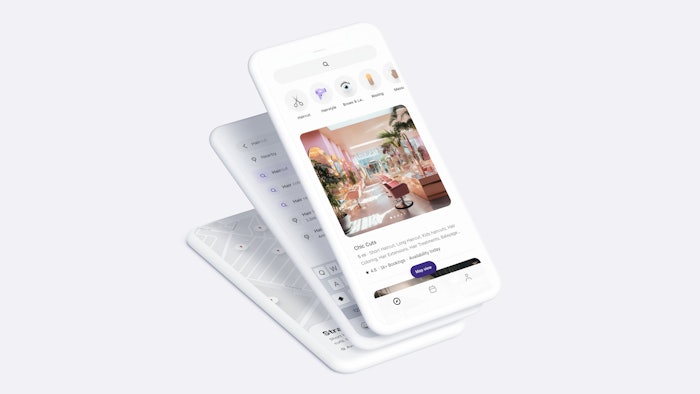 Photo Courtesy of Square
Square has launched Square Go, a consumer booking app that provides an end-to-end booking experience so consumers can search, discover and schedule with highly-rated independent service providers in their area. The Square Go mobile app provides consumers access to one of the largest networks of beauty and personal care businesses in the industry, with more than 250,000 professionals offering 2 million self-care services, increasing seller visibility, and helping beauty and personal care professionals grow and retain their customer base.
With Square Go, consumers can book appointments with new businesses in their area based on location, service and availability. To offer personalized recommendations, the mobile app suggests businesses based on a consumer's previous booking patterns. Consumers can receive appointment notifications and manage bookings through Square Go by confirming, rescheduling or canceling appointments. Square found a 55% decrease in no-shows among Square Go users. Square Go makes rebooking convenient by showcasing previous appointment history, helping grow customer satisfaction and retention, with 30% of consumers rebooking after seeing a suggestion to do so within the app.
Related: Square Launches Updated Square Stand
Square Go directly integrates with Square Appointments, with plans to bring its mobile booking functionality to more industries beyond beauty, further connecting consumers and businesses. Since Square Appointments' launch in 2014, consumers have booked more than 488M appointments on the platform. In June 2023, roughly 10M consumers booked with Square Appointments, an increase of 15% year-over-year. Since 83% of Square Appointments are booked on mobile versus on a desktop, Square Go is meeting consumer preferences for mobile-first experiences through on-the-go, 24/7 booking.
"This launch marks a significant milestone for Square sellers and their customers as we continue investing in software that equips businesses with powerful omnichannel tools," said Alyssa Henry, CEO of Square. "We believe Square Go is an important step in helping sellers make more sales by offering seller discovery and exceptional customer experiences. While we're starting with beauty and personal care, Square Go will expand into additional industries to enable even more sellers and their customers."
"Square Go has helped me reach another level of clientele I didn't know I could by increasing visibility of my business, which also helps us financially," said Justin Lavalle, Owner of J Lava Salon in Winter Park, FL. "Square Go has added tremendous value to both my salon and clients by creating a professional look and ease of booking for my clients. Now, clients don't need to stop their workday to call me and schedule appointments, but they can do it all themselves, which also helps save me time."