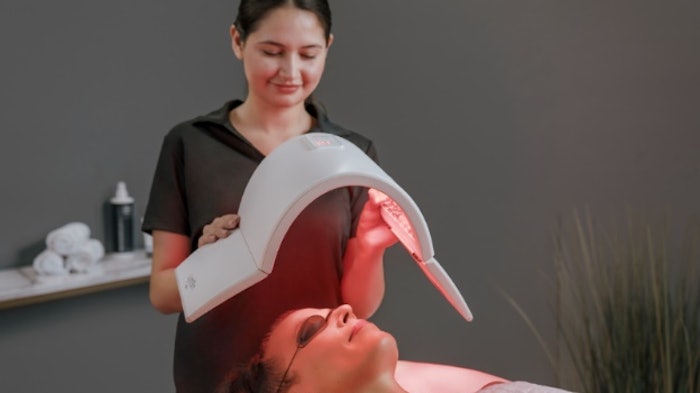 Photo courtesy of Massage Heights
Massage Heights announced the launch of its new facial service, LED Light Therapy, available at select retreats nationwide. Partnering with LightStim, the service features two treatments designed to reduce wrinkles and treat acne and inflammation. 
The treatment is non-invasive and requires no recovery or downtime, and is made up of LED wavelengths that are represented by two colors that offer various therapeutic benefits. The LED Light Therapy will serve as an add-on option to the brand's existing personalized facials. 
"The LED Light Therapy treatments are the perfect complement to our facial offerings as wellness and self-care remain a priority for our guests," said Susan Boresow, CEO and President of Massage Heights." When considering our first service launch in years, we knew it had to be something that would truly benefit our guest's skin care and wellness, and LED Light Therapy was an easy choice."
Related: The Body Sculpting Benefits of LED Light Therapy
Selection on treatment mode for each LED Light Therapy add-on is dependent on a guest's specific skin care needs. Wrinkle mode softens the look of lines and visible pores, encourages a more vibrant and youthful appearance, tones and refines skin texture and stimulates the skin's natural ability to counteract signs of aging. Benefits of the acne mode include calming existing breakouts, reducing redness, destroying acne-causing bacteria and helping to restore balance of healthy skin.
Massage Heights has placed an increased focus on skin care in recent years to reflect the increased consumer demand. High-tech treatments such as LED light therapy are in high demand, as they address both anti-aging and acne concerns, and the service is gentle with no downtime.