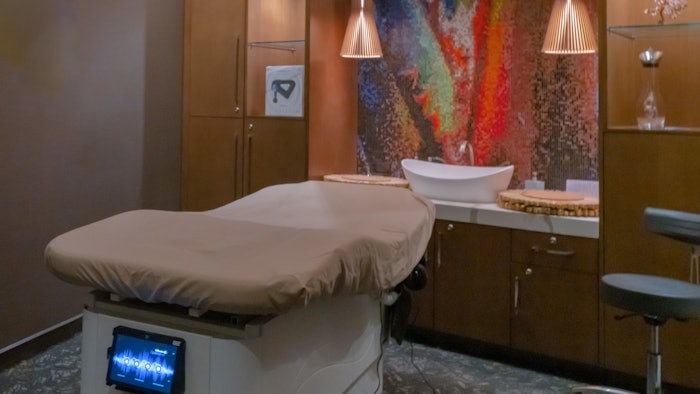 Photo courtesy of The Spa at Séc-he
The Agua Caliente Band of Cahuilla Indians announced the official opening of The Spa at Séc-he at the Agua Caliente Cultural Plazaon on April 4, 2023. The world-class spa is located atop the Tribe's hot mineral spring in Palm Springs, CA. 
The spa destination offers a luxurious selection of treatments that include the use of local botanicals, high-tech equipment, flotation, cryotherapy and more. Signature offerings also include Water Cupping Massages, wellness packages and its special clinical skin support line. 
"The opening of The Spa at Séc-he is a milestone our Tribe will not soon forget, and will pass down through the generations," said Chairman Reid D. Milanovich of the Agua Caliente Band of Cahuilla Indians. "We are honored to share some of our most precious rituals with the world. While an emphasis on healing helped our Tribe thrive throughout the years, so has the connection to the body, mind and spirit –all things you will be enveloped in at The Spa at Séc-he."
Related: 3 Indigenous Spa Experiences That Celebrate Local Culture
Exclusive to The Spa at Séc-he is Taking of the Waters, an ancient tradition. Twenty-two private mineral baths are available for guests to experience the power of Taking of the Waters, where the combination of hot water and the mineral composition create a natural environment for full body rejuvenation. 
The global spa offers a state-of-the-art fitness room, locker areas with aromatherapy showers, eucalyptus steam room, menthol inhalation saunas with cold experience showers, outdoor lounges with private mineral baths, relaxation areas with vibrational loungers, grounded tranquility rooms with zero-gravity conductive chairs, halotherapy salt caves, and more. 
"We have carefully and strategically crafted our spa menu to offer something for everyone, using only the highest quality products and technologies expected of a world-class spa destination," said Daniel Spencer, Spa Director at Agua Caliente Casinos/The Spa at Séc-he. "Introducing Cahuilla cultural impressions into the treatments, offerings and throughout the architecture of the spa was integral to the concept of The Spa at Séc-he."