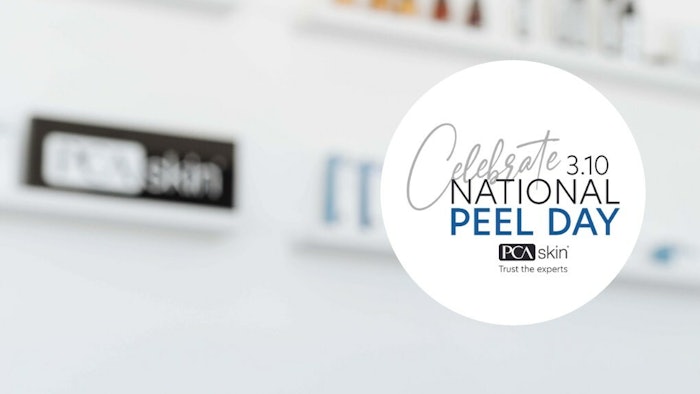 Photo courtesy of PCA SKIN.
PCA SKIN celebrated its fourth annual National Peel Day on March 10, 2023. National Peel Day was established in 2020 to drive awareness, increase education, and demystify misconceptions around the non-invasive treatment. 
To show their support for the professional community, there was a social contest on National Peel Day where professionals were encouraged to post their best PCA SKIN peel "before and afters" on Instagram, using the official hashtags #NationalPeelDay and #FeelThePeel. Winners were announced on March 17th, and received a full back bar set and were spotlighted on PCA SKIN's Instagram.
In a recent consumer study by PCA SKIN, 31% of participants stated they believe professional peels to be too painful and cited that as as the main deterrent of receiving the treatment. The company instead created professional peels are formulated with unique ingredient blends that offer a comfortable treatment experience. 
Related: Clinical Reminders For Safe and Effective Peel Treatments
PCA SKIN has performed over one million peels globally each year. The brand's peels offer an array of skin benefits such as reducing visible fine lines and wrinkles, decreasing acne breakouts, diminishing discoloration, and evening skin tone by speeding up the exfoliation process and encouraging cell turnover. 
"For those who have never experienced a professional peel, the treatment can come across as intimidating," said Echo Sandburg, Chief Brand Officer of CP Skin Health Group. "To help alleviate those concerns and get rid of the stigma, National Peel Day was established to educate and create awareness so that people have the necessary information to help them on their peel journey. There's a misconception that when it comes to the peel experience, it's one size fits all, but our professionals work with their clients to ensure they get the level of treatment that works for their skin."
In addition to strategic programming, for the first time, consumers had the chance to win a professional peel and a custom regimen. Content on the brand's social channels also included education on peels - from what customers should expect from their first peel, how to prep the skin, post-peel care and more.