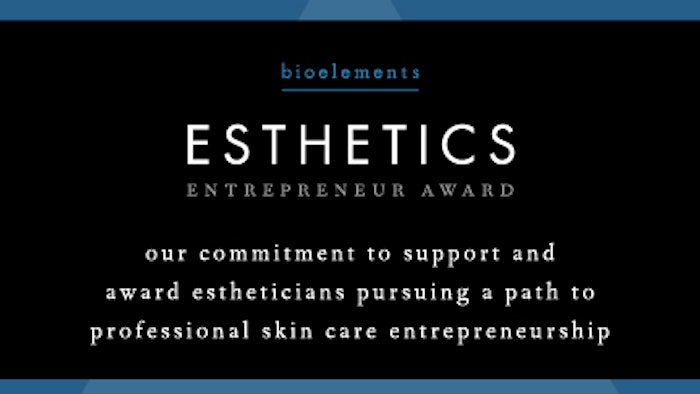 Photo courtesy of Bioelements
Bioelements will continue its Esthetics Entrepreneur Award for 2022. The unique initiative annually awards and supports four estheticians pursuing a path to professional skin entrepreneurship. 
Each Award recipient will receive a Bioelements Opening Order Plan to launch their start-up esthetic business. Other winnings will include: spa education, a Bioelements Bonus Box of support tools, a Spa Locator listing on Bioelements.com, social media exposure, and a dedicated Bioelements Regional Education + Success Manager as their personal mentor for six months. 
Related: Bioelements Congratulates Esthetics Entrepreneur Award Winners
"The Esthetics Entrepreneur Award honors the passion of our late founder Barbara Salomone, who started on her entrepreneurial path in 1978 as one of the first-ever licensed estheticians in the United States," said Terry Schatz, Bioelements' COO. "Barbara was committed to helping future estheticians build their careers with skin care formulas and education to ensure success. Today, in Barbara's memory, Bioelements remains committed to supporting the advancement of entrepreneurs with the Esthetics Entrepreneur Award."
The application period is now open, and will close on January 9, 2023. Winners will be announced January 31, 2023.