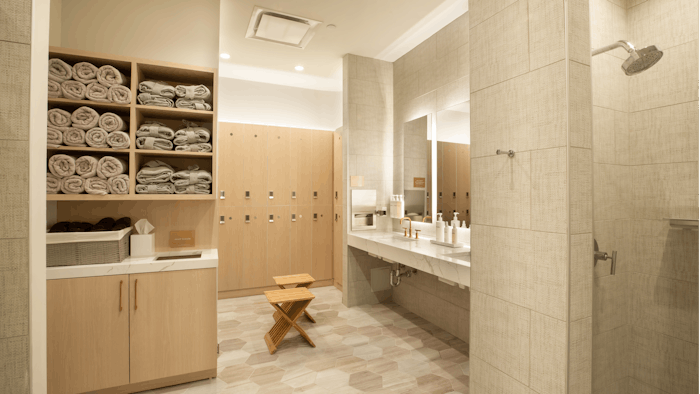 Exhale Spa announced the reopening of its spa in New York City's NoMad district and the addition of medical spa treatments to its day spa menu starting in March 2022.
Related: Inspiring Spa Spaces: Kohler Waters Spa
Exhale Spa's NYC location features five spa therapy rooms and offers facials, massages and body scrubs.
One medspa addition is a vitamin infusion via IV drip—a 45-minute session for hydration. Treatments include Hydration ($99), Exhale Signature ($129), Immunity ($169), Energy Booster ($169), Migraine ($169), Athletic Recovery ($189), Vitamin C ($189-$399), Inflammation ($199), Beauty ($199) and NAD+ ($299-$999).
Exhale Spa offers boosters for its vitamin infusion for an extra fee, including Toradol, Zofran, Vitamin B12, Vitamin D, and Folic Acid ($25 each); B12 MIC ($35); and Biotin and Glutathione ($45 each).
Other medspa treatments include injectables like Botox, Restylane, Juvéderm Ultra Plus, Juvéderm Voluma, and Kybella; Chemical Peels; Microneedling and Stem Cell, Lymphatic Drainage, Mesotherapy and Carboxytherapy.
Exhale Spa also offers body sculpting treatments, including Accufit, LasMD Ultra, Cryo T-Shock and Icoone Roboderm.
At its NoMad location, Exhale is introducing a recovery menu, which includes Whole Body Cryotherapy ($50), Far Infrared Saunas ($50 for 50 minutes), Halotherapy (salt therapy) (add-on $25), NormaTec ($25) and AromaO2 ($20).
Marie O'Connor, CEO of Exhale Spa, says, "Over $16 billion is spent on cosmetic procedures in the United States, and Exhale Spa wanted to meet the demand from our loyal clientele to expand upon our luxurious skincare toolbox. With the launch of our new medspa menu, Exhale Spa can offer cosmetic anti-aging and rejuvenating treatments under the expertise of a licensed medical practitioner but in the tranquility of a relaxing and Zen-like spa environment."