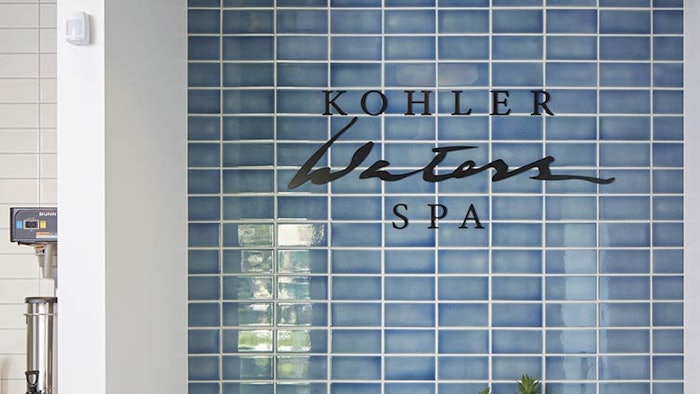 Kohler Waters Spa: Burr Ridge, IL
As one of the most iconic hydrotherapy brands, it was only fitting that Kohler started off this new spa design column, Inspiring Spa Spaces. The senior interior designer of Kohler Waters Spa, Stephanie Schilling, gave us the scoop on the inspiration behind this spa sanctuary.
1. Tell us about the aesthetic of your spa's interior?
The spa evokes a clean, design-forward aesthetic with a dark and dramatic tone, encouraging guests to feel as if they are in a sanctuary away from the hustle and bustle of everyday.
2. What inspired your design components and process?
The design team built upon the existing footprint of the spa's palette, layering in texture, lighting and material changes within the expansion. We wanted to balance light and dark in different areas of the spa. The Mediterranean-style café and locker room aesthetic offers a fresh, playful energy, while the relaxation lounge and treatment rooms bring forth a warm, comforting feel through a darker color palette.
3. What is important when designing a successful spa space?
When designing a spa, it's important to keep in mind that the space is soft and gentle for the guest, while also functional for the therapist. Size of the treatment rooms is a large factor, as the therapist needs ample space to move around the table, and lighting is also critical as it tells a story.
4. Does your spa have any unique features or design aspects?
A key feature of our recent renovation is the first-of-its-kind KOHLER Custom Vichy Shower, offering guests an exclusive hydrotherapy service they can't find anywhere else. We've collaborated meticulously with the product engineers at Kohler Co. to enhance and redesign the innovative shower, which is suspended from the ceiling to allow the therapist more flexibility to move around the massage table.
5. What advice would you give to someone who is designing their spa's interior?
Beyond the aesthetic design, it's crucial to consider the operational elements that go into designing a spa space. While all spas are different, the intention of catering to the guest is similar across the industry, and spas should go above and beyond to create an elevated guest experience.