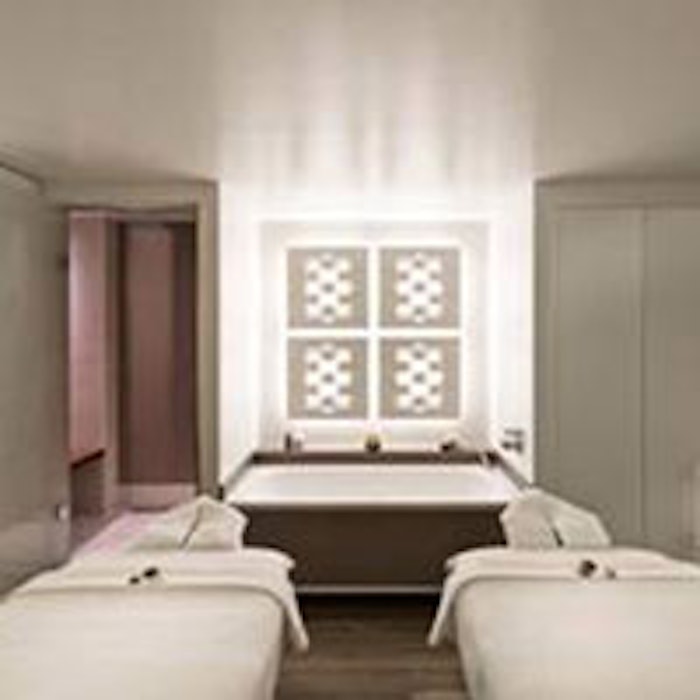 Starwood Hotels and Resorts has announced the launch of its seventh Le Méridien-branded resort in Thailand with a new property on a stretch of Lamai Beach in Koh Samui. Le Méridien Koh Samui Resort and Spa offers 77 suites and villas, which have been built in the footprint of a traditional Asian seaside village overlooking the Gulf of Thailand. Facilities include Le Spa, a 3,229-square-foot facility offering four treatment rooms and a foot massage room, as well as a pedicure and medicure room. A relaxation room offering views of a waterfall is also among the facilities at the spa, which uses products from France-based brands Thalgo and Matis, as well as Thai-based Punpuri.
Hotel and Spa do Vinho in the state of Rio Grande do Sul, Brazil, is set to become the latest property to join Marriott International's Autograph Collection early next year. The 128-bedroom property will join the collection under a franchise agreement with Harvest Administração d Bens Ltda and is located in the Bento Conçalves wine-making region. Facilities include the Spa do Vinho Caudalie, which offers wine- and vine-inspired therapies and is operated under license with France-based beauty and spa company Caudalie.
Sundãri, the spa concept established by supermodel Christy Turlington, has announced the launch of its first Irish flagship facility at the Killarney Plaza Hotel in County Kerry. The 3,000-square-foot spa now provides a wide number of treatments from Indonesia, Thailand and India, in addition to tailor-made healing therapies for the mind and body. Signature treatments offered by the Killarney Plaza include the Sundãri Zana, consisting of a 90-minute facial and hot stone massage using volcanic stones. The Realign treatment is a 75-minute, four-handed signature massage, which uses essential oils from plants, flowers and trees combined with the "energy" of two therapists. Meanwhile, the Sundãri spa at the Killarney Plaza Hotel also a range of post-natal therapies such as the New Baby Brightening facial and the New Mums Body Massage. Facilities at the Killarney Plaza Hotel's spa include six therapy pods; two signature therapy areas; a consultation area; a hand and feet therapy space; and a relaxation garden. A spa retail emporium and a leisure club with swimming pool; whirlpool; sauna and fitness suite is also provided in a separate area away from the spa.
Cotton Tree in the Cayman Islands recently introduced a new spa menu. Designed to provide a holistically focused, bespoke wellness experience, Cotton Tree's expanded spa menu reflects the resort's commitment to personalized hospitality. All treatment can be enjoyed among the resort's grove of sea grape trees in the comforting seclusion of the spa pavilion, complete with outdoor shower, or indoors in the privacy of a resort cottage and/or its veranda. Highlights of Cotton Tree's new expanded spa menu include the following.
Massages: Every treatment begins with a comprehensive consultation with a spa therapist. A quartet of soothing massages—the Cotton Tree Signature, Coconut Bliss, Deep Tissue and Aromatic Balancing Massages—feature the latest in deep-tissue therapeutic techniques such as trigger point and neuromuscular therapies and myofacial release, and various products, from chakra stones and exfoliating coconut scrubs to nutrient-rich oils, all used with the aim of easing tensions and melting away stress. Massages are priced at $175 for 60 minutes.
Facials: All hydrating, age-defying facials incorporate island-inspired ingredients rich in antioxidants. Infused with natural botanicals, these enriching formulations calm, repair and soothe the skin. The Aqua Vera Hydrating, Anti-Aging Collagen, and Aromatic Balancing Facials feature products as diverse as chamomile, aloe vera, peptides, vitamin C, restorative-grade essential oils and others. Aims of these facials include but are not limited to reversing sun damage, returning a natural glow to the skin, and strengthening collagen and elastin to firm and lift. Facials are priced at $195 for 60 minutes.
Body Treatments: Luxuriating body treatments—the Aqua & Alow Body Wrap, Coconut Silk Scrub, and Sea Grape Souffle Treatment—include a complete body exfoliation, a cocooning linen wrap, relaxing massage and hydrating body sealant. Calming chamomile, aloe plant, sea grape, gentle sugar cane and other antioxidant-rich body serums enriched with the likes of green tea, pomegranate, rosehip oil, whipped body masks and cool facial stones are among the products used and applied during these ultra hydrating, glow-restoring therapies. Body Treatments are $175 for 60 minutes.
Enhancements: Further customize spa experiences with one or more of the following treatments—the Collagen Eye Renewal, Dry Body Exfoliation, Aqua Vera Masque, Aromatherapy Scalp and/or Coconut Foot Ritual. Each service is priced at an additional $25.
The Bannatyne Group has announced the launch of its latest UK spa at the Fairfield health club near Stotfold, Bedfordshire, which is open to both members and non-members.Facilities at the new £200,000 spa, the group's 33rd in the UK, include six treatment rooms; a double treatment room; and a relaxation balcony, as well as a spray tan room and a manicure and pedicure area. The spa will complement existing relaxation facilities at the health club, which comprise a 14-seat spa pool; a large relaxation area alongside a 16m swimming pool; and a steam room. Treatments for both men and women are on offer at the spa and are provided by Elemis, with ID Bare Escentuals; Gelish Semi Permanent Nailcare; and Essie nail care also available.
SB Architects and the Mission Hills Group announced the completion of Mission Hills Volcanic Mineral Springs and Spa on the Northern coast of China's Hainan Island. The spa and volcanic mineral springs comprise a major component of Mission Hills. Mission Hills Volcanic Mineral Springs and Spa is home to the largest natural springs reserve in the region, and measures an incredible 950,000 square feet (21 acres). The Spa at Mission Hills is the central defining feature of the expansive mineral springs complex. It is surrounded by 473,000 square-feet of lushly landscaped gardens, more than 150 springs and water features, and treatment venues inspired by the five continents—Asia, Oceania, North and South America, Europe, Middle East and Africa—which comprise the Volcanic Mineral Springs. Twenty-nine luxurious Spa Villas provide an intimate and exclusive sanctuary for residents and guests seeking longer-term solace. The iconic main spa structure is comprised of soaring, semicircular bamboo, rising from a massive lava stone base that is slightly canted to increase its sense of grandeur. The soaring sense of verticality imposed by the sustainable bamboo makes a powerful design statement, while the use of locally abundant lava stone and bamboo firmly grounds the design in the nature and topography of Hainan Island. Featuring 61 well-appointed spa treatment suites, the spa takes its design inspiration from the traditional Hakka Earthen Fortress Villages of Southern China. These distinctive communal structures—historically used for defense and communal living—have been recognized by UNESCO as World Heritage Sites for their unique contribution to the history of building and human settlement. The space fuses both western and oriental design elements in their most refined form while honoring the long-standing Chinese philosophies of balance and harmony.
The Metropolitan London has just unveiled the new COMO Shambhala Urban Escape. Joining world-renown spas at Parrot Cay in Turks and Caicos and COMO Shambhala Estate in Bali, the new location shares the company's holistic approach. In the tradition of COMO Shambhala, it will offer key Asian-inspired therapies as well as a resident acupuncturist. Among the treatments on offer are the Dr. Perricone facials. The spa is also offering COMO Shambhala PURIFY facials, suitable for men and women. Body therapies include the signature COMO Shambhala Massage, a nurturing massage using COMO Shambhala's own blended massage oil to calm the mind and rejuvenate the body. In response to the hotel's male clientele, COMO Shambhala Urban Escape offers dedicated treatments for men including facials and massages. The Complete Man treatment includes a back cleanse followed by a mask application to the back teamed with a scalp massage. Tension is then released with a Deep Tissue Massage before concluding with an Express Men's Facial and a hand scrub. In the future, COMO Shambhala Urban Escape will also welcome regular visits by expert therapists who have trained at the group's other spas worldwide. They might include osteopaths, nutritionists and reflexologists. The spa is open to guests, locals, and visitors. The sleek, minimalist interior of the Metropolitan London is reflected in the design of the new spa Linzi Coppick of Forme UK created a clean-lined, peaceful sanctuary for those looking to escape the pressures of city life. There are six treatment rooms, two of which are doubles. The double treatment rooms feature steam rooms, and the new spa also incorporates expanded gym and yoga facilities. The comfortable reception has a dedicated retail space exclusively stocking COMO Shambhala products, including yoga wear from the COMO Shambhala Active Living Collection, and the company's hair, skin, and body care products blended from natural essential oils.