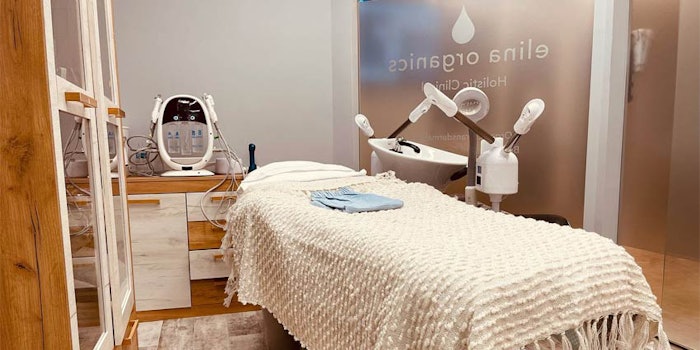 Elina Organics is opening an organic skin care studio in Pompano Beach, Fla., its third location along with Kalamazoo, MI., and Chicago. Owned by celebrity esthetician and cosmetic chemist Elina Fedotova, the organic studio offers organic facials, waxing, hair coloring and anti-aging treatments.
Related: Spa Snapshot: Elina Organics
The service menu at Elina Organics includes a variety of facial, skin rejuvenating treatments and waxing services, using all-natural serums, scrubs, masks, lotions, peels and more. It also offers 100% botanical permanent hair coloring that uses four ingredients to create a new shade.
Two of its signature services are the Mermaid Face Rejuvenating Treatment and Bio Response Face Firming Anti-Wrinkle Treatment.
Elina Organics Mermaid Face Rejuvenating Treatment infuses the skin with Elina Organics serum made from a blend of natural peptides, hyaluronic acid and organic botanicals. A face mask made from marine collagen and seawater pearls is delivered with electrophoresis. Elina Organics eye cream, skin elixirs and moisturizers are applied afterward. The corrective treatment is said to be beneficial for all complexions but especially for aging, sun damage, and dry skin. It costs $150 for 70 minutes.
Elina Organics Bio Response Face Firming Anti-Wrinkle Treatment is performed with adaptive micro-current and Phyto peptides. A hydra cupping technique is used to purify skin, followed by polishing and exfoliating with natural enzymes and a micro peel. A blend of Phyto peptides, hyaluronic acid, and vitamin C are mixed and applied to the face and neck. Then, the Scenar Cosmodic Neurofeedback Skin Firming Treatment will firm skin, tone muscles and contour the jawline. Elina Organics botanical masks, serum and lotions are applied afterward. The treatment is said to improve the appearance of anti-aging, balance hormones and harmonize the energy in the entire body. It costs $235 for 90 minutes.