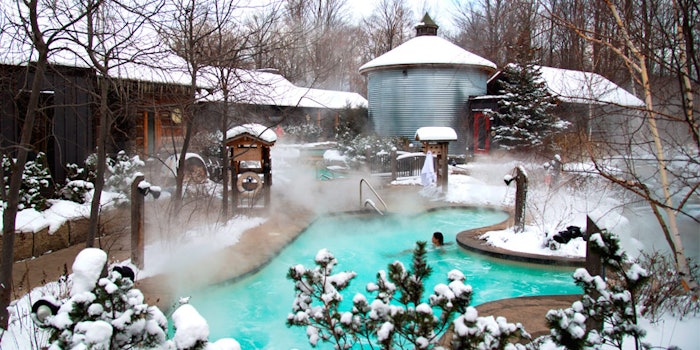 Travel and wellness website, Spas of America, has released its annual ranking of the Top 100 Spas of 2016 based on consumer behavior on the company's website. Last year, health spas were the most popular spa experience, with 34 making the 2016 list and city spas following.
"In 2016, we continued to see steady growth in the North American spa and wellness industry, with record visits and increased revenue," said Craig Oliver, president of Spas of America.
The 2016 International Spa Association U.S. Spa Industry Study, commissioned by the ISPA Foundation and undertaken by PwC International Survey Unit, reported consumers made 179 million visits to spas in the United States, generating an estimated $16.3 billion in revenue.
Did your spa make the list?
1. New Life Hiking Spa, Mendon/Killington, Vermont
2. Aspira Spa, The Osthoff Resort, Elkhart Lake, Wisconsin
3. Pala Spa, Pala Casino Spa & Resort, Pala, California
4. Oaks at Ojai, Ojai, California
5. Skaná, The Spa at Turning Stone Resort, Verona, New York
6. The Biggest Loser Resort Palm Desert, Palm Desert, California
7. Grotto Spa, Tigh-Na-Mara Spa Resort, Parksville, British Columbia
8. Spa Terra, Meritage Resort and Spa in Napa Valley, Napa, California
9. Movara Fitness Resort, Ivins, Utah
10. Miraj Hammam Spa by Caudalie Paris, Shangri-La Toronto, Toronto, Ontario
11. The Spa at White Oaks Resort, Niagara-on-the-Lake, Ontario
12. Deerfield Spa, East Stroudsburg, Pennsylvania
13. Wellfit Malibu, Malibu, California
14. The Spa at Fairmont Jasper Park Lodge, Jasper, Alberta
15. 100 Fountain Spa, Pillar and Post, Niagara-on-the-Lake, Ontario
16. Grand Geneva Resort & Spa, Lake Geneva, Wisconsin
17. Woodlands Spa, Nemacolin Woodlands Resort, Farmington, Pennsylvania
18. Sunstone The Spa at Agua Caliente, Rancho Mirage, California
19. Spa Khakara, Sheraton Waikiki, Honolulu, Hawaii
20. Abhasa Spa, The Royal Hawaiian Resort, Waikiki Beach, Hawaii
21. The Millcroft Inn & Spa, Alton, Ontario
22. Ste. Anne's Spa, Grafton, Ontario
23. Tennessee Fitness Spa, Waynesboro, Tennessee
24. The Lodge at Woodloch, Hawley, Pennsylvania
25. Clinic at KurSpa, Sparkling Hill Resort & Spa, Vernon, British Columbia
26. Scandinave Spa Blue Mountain, Blue Mountains, Ontario
27. Crystal Spa, Crystal Mountain Resort & Spa, Thompsonville, Michigan
28. Evensong Spa, Heidel House Resort, Green Lake, Wisconsin
29. Jasha Spa, JW Marriott Los Cabos Beach Resort, Los Cabos, Mexico
30. Glacial Waters Spa at Grand View Lodge, Nisswa, Minnesota
31. Turtle Cove Spa, Mountain Harbor Resort, Mount Ida, Arkansas
32. Wine & Roses, Lodi, California
33. Secret Garden Spa, Prince of Wales Hotel, Niagara-on-the-Lake, Ontario
34. The Biggest Loser Resort Amelia Island, Amelia Island, Florida
35. Gurney's Montauk Resort & Seawater Spa, Montauk, New York
36. The Biggest Loser Resort Chicago, Chicago, Illinois
37. CHI Spa at Shangri-la Hotel Vancouver, Vancouver, British Columbia
38. Scandinave Spa Whistler, Whistler, British Columbia
39. Spa Grand Traverse, Acme, Michigan
40. The Ranch at Live Oak Malibu, Malibu, California
41. Sundara Inn & Spa, Wisconsin Dells, Wisconsin
42. Black Rock Oceanfront Resort, Ucluelet, British Columbia
43. Hilton Head Health, Hilton Head Island, South Carolina
44. Spa Shiki at the Lodge of Four Seasons, Lake Ozark, Missouri
45. Manitou Springs Resort and Mineral Spa, Manitou Beach, Saskatchewan
46. Temple Gardens Mineral Spa, Moose Jaw, Saskatchewan
47. Rancho La Puerta, Tecate, Mexico
48. The Spa at The Joule, Dallas, Texas
49. The L Spa & Wellness Centre, Grande Prairie, Alberta
50. Glen Ivy Hot Springs, Corona, California
51. Spa Walden, Aurora, Ohio
52. Red Mountain Resort, St. George, Utah
53. Santé Spa Victoria, Victoria, British Columbia
54. The Spa at InterContinental Toronto Center, Toronto, Ontario
55. The Spa at Delta Victoria Ocean Pointe, Victoria, British Columbia
56. Lake Austin Spa Resort, Austin, Texas
57. eforea spa at Hilton Suites Toronto/Markham, Markham, Ontario
58. Shoji Lodge & Spa, Asheville, North Carolina
59. Shankara Ayurveda Spa, Art of Living Retreat Center, Boone, North Carolina
60. Springs Eternal Spa, Omni Bedford Springs Resort, Bedford, Pennsylvania
61. Sunrise Springs Integrative Wellness Resort, Santa Fe, New Mexico
62. Healing Arts Center & Spa, Cavallo Point Lodge, Sausalito, California
63. Relâche Spa, Gaylord Opryland Resort, Nashville, Tennessee
64. Immerse Spa, MGM Grand Detroit, Detroit, Michigan
65. Brentwood Bay Resort & Spa, Brentwood Bay, British Columbia
66. Golden Door, San Marcos, California
67. Trillium Spa at Seven Springs Mountain Resort, Seven Springs, Pennsylvania
68. Pritikin Longevity Center & Spa, Miami, Florida
69. Avani Spa, The Abbey Resort, Fontana, Wisconsin
70. Cal-A-Vie Health Spa, Vista, California
71. Canyon Ranch Lenox, Lenox, Massachusetts
72. The Spa at Grand Velas Riviera Maya, Playa del Carmen, Mexico
73. The Sportsman's Inn, Killarney, Ontario
74. Green Mountain at Fox Run, Ludlow, Vermont
75. The Biggest Loser Resort Niagara, Java Center, New York
76. Kurotel Longevity Medical Center and Spa, Rio Grande do Sul, Brazil
77. Kohler Waters Spa, Kohler, Wisconsin
78. Nob Hill Spa at the Scarlet Huntington, San Francisco, California
79. The Spa at the Catamaran Resort, San Diego, California
80. Canyon Ranch Wellness Resort at Kaplankaya, Milas, Turkey
81. The Ashram, Calabasas, California
82. Bota Bota, spa-sur-l'eau, Quais du vieux-port de Montréal, Montréal, Québec
83. Topnotch Resort & Spa, Stowe, Vermont
84. Mii Amo, A Destination Spa at Enchantment Resort, Sedona, Arizona
85. Spa Eastman, Eastman, Quebec
86. Green Valley Spa, St. George, Utah
87. The Parkside Spa, Parkside Hotel & Spa, Victoria, British Columbia
88. Elaia Spa, Hyatt at Olive 8, Seattle, Washington
89. Lapinha Spa, Brazil
90. Miraval Arizona Resort & Spa, Tucson, Arizona
91. Carson Hot Springs Bathhouse, Carson, Washington
92. Wi Spa, Los Angeles, California
93. Santé Spa Calgary at Hotel Le Germain, Calgary, Alberta
94. Christienne Fallsview Spa, Sheraton on the Falls, Niagara Falls, Ontario
95. Qua Baths & Spa at Caesars Palace, Las Vegas, Nevada
96. Mirbeau Inn & Spa Skaneateles, Skaneateles, New York
97. G Salon, Marriott Providence, Providence, Rhode Island
98. The Spring Resort & Spa, Desert Hot Springs, California
99. The Spa at Poplar Springs, Warrenton, Virginia
100. The Fairmont Banff Springs, Willow Stream Spa, Banff, Alberta