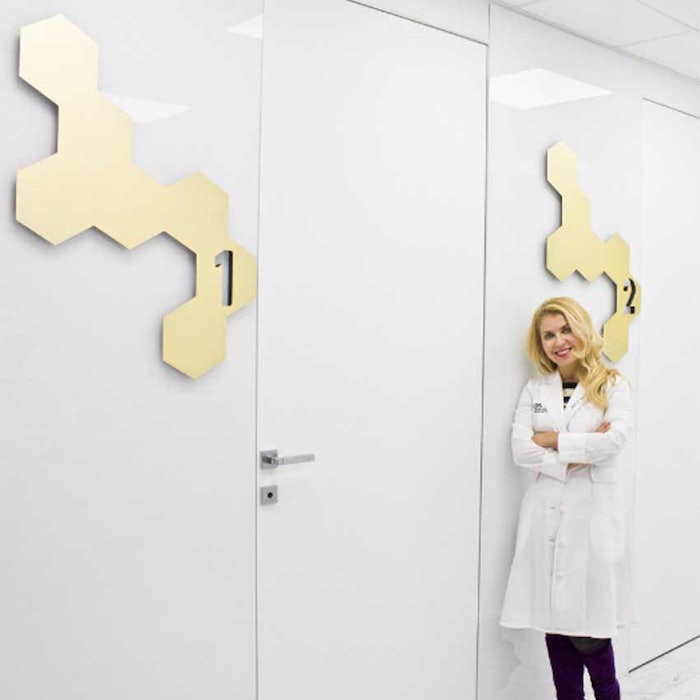 Dermatologist Julie Russak, M.D., has partnered with SkinCeuticals to debut exclusive treatments at Russak+ Aesthetic Center, an extension of Russak's dermatology practice.
The new therapeutic treatment paradigm was designed to help maintain and enhance healthy skin. It was created to provide patients with an advanced and personalized approach.
The new treatment menu consists of the Rejuvenating SkinCeuticals Decollete Treatment with Red Light Therapy and SkinCeuticals Dermaplaning Facial.
The Rejuvenating SkinCeuticals Decollete Treatment with Red Light Therapy utilizes light based therapy to help improve the appearance of the neck and decollete in 45 minutes. Based on individual skin type and concerns, the esthetician will choose from a variety of specialty chemical peels, according to area. This multi-corrective treatment targets discoloration, firmness, texture, pore size and oil production. For optimal results, red light is recommended every four weeks.
SkinCeuticals Dermaplaning Facial utilizes a specialized dermaplane blade that works on a micro-thin layer to gently remove the surface layer of debris on skin, prepping the skin for topical ingredients. This 60-minute treatment is finished with a light chemical peel, any necessary extractions and liquid nitrogen cryotherapy to give skin the appearance of resurfaced and rejuvenated skin.
"Educating my patients on how to care for their skin is key, which is why SkinCeuticals is an excellent partner. Our approach is more holistic because we focus on education and prevention for overall wellness. If you are knowledgeable on how the skin as an organ responds to internal and external stress, which in turn accelerates the aging process, you have won half the battle," says Russak. "I always explain the science behind any procedure or skincare regimen, ensuring my patient understand why it will work for them and what to expect."
"We are excited to strengthen our relationship with Dr. Julie Russak and her medical practice. She shares in our philosophy of an integrated skincare approach and together we will continue to provide superior results," said Brenda Wu, general manager, US of SkinCeuticals.