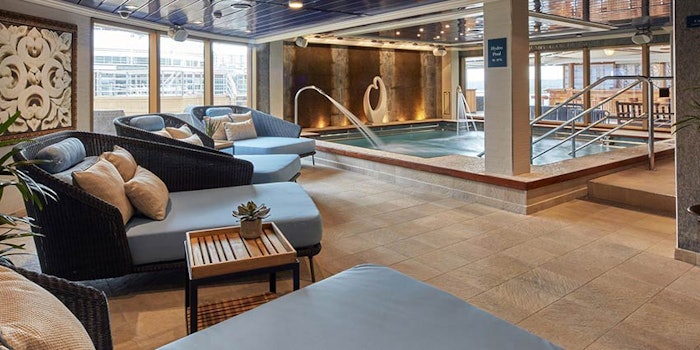 Cunard and Canyon Ranch have teamed up for Mareel Wellness & Beauty, a holistic spa concept, set to debut on the Queen Elizabeth cruise ship.
Mareel offers facilities including seaweed bathing rituals, a meditation room with acoustic resonance loungers, a reconfigured multifunctional fitness center and studio space and sound therapy facilities in every treatment room.
The signature treatment will be the Ocean Discovery, utilizing products from marine-based brand Voya. It features an organic seaweed leaf wrap, luminescence massage and a restorative facial.
Outside the spa, guests can partake in activities such as outdoor dance, open-air yoga and wellness seminars.
The concept is part of a refurbishment of the Queen Elizabeth during a two-week docking; it will move to the ships the Queen Victoria in late December and the Queen Mary 2 in November 2020.
"We are delighted to share news of Mareel Wellness & Beauty, Cunard's first ever own spa concept," said Cunard VP of marketing Angus Struthers. "Well-being is key to life, and feeling relaxed in mind and body is an important part of any holiday, and we are thrilled to offer such a luxurious spa at sea for our guests."