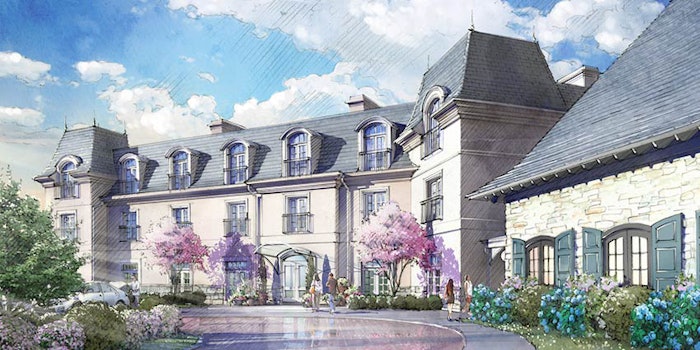 The Mirbeau Companies has announced its latest Mirbeau Inn & Spa location, this one set to open in the historic Village of Rhinebeck, N.Y.
Mirbeau Inn & Spa Rhinebeck will feature 50 guest rooms—each with their own fireplace, walk-in shower and claw-foot soaking tub—along with a 12,000 sq. ft. Spa Mirbeau and Fitness Center. Mirbeau Inn & Spa Rhinebeck differs from other locations by including a chic, Parisian hotel twist, and it offer attributes including an oversized hot plunge pool; eucalyptus-infused steam rooms and Himalayan salt saunas.
The new location—which joins existing Mirbeau properties in Skaneateles, N.Y. and Plymouth, Mass., along with Spa Mirbeau—is slated to open fall 2019, will be modeled after an old-world Parisian Hotel. Other features include a 3,000 sq. ft. meeting and conference space, and Bistro & Wine Bar.
"We are excited to expand our Mirbeau portfolio to this beautiful area of the Hudson Valley, providing our guests with a chance to pause and to escape to an exciting new Parisian-inspired destination, without the need to travel." said Linda Dower, principal owner. "In this 24/7, totally connected world we live in, we find it even more important for our guests to have the opportunity re-balance in their lives through a restful, yet inspiring experience. We look forward to becoming an important part of the Rhinebeck Community and to serving the greater Hudson Valley market with our special style and amenities specifically designed to be enjoyed by local residents as well as visitors."