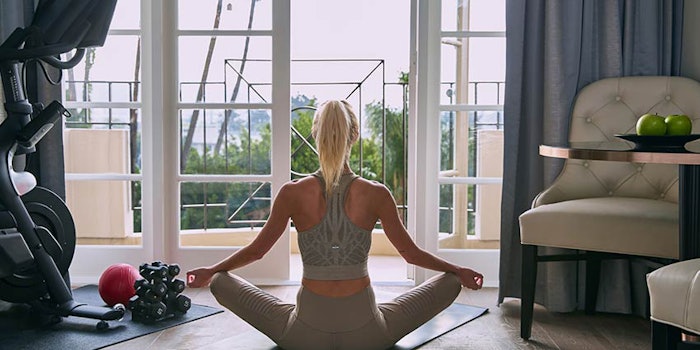 The Four Seasons Hotel  Los Angeles at Beverly Hills, in partnership with Delos, has launched its Wellness Rooms. The five wellness-themed guest rooms and two suites aim to contribute to guests' physical and emotional well-being while traveling.
The rooms bring together Delos technology with eco-chic design; programs include stress and nutrition programs, nutritious menu items endorsed and approved by Cleveland Clinic and mediations guided by Deepak Chopra, MD.
Features include the followoing.
In-room amenities. Exercise equipment, Alo yoga mats, natural toiletries by LATHER, meditation videos by Chopra and a mini-bar stocked with nutritious snacks are included in the rooms.
Circadian lighting by Delos. The lighting is controlled by a mood box and engineered to simulate the color, temperature and intensity of natural outdoor light. The lighting offers three settings—Energizing, Relaxing and Play.
Air purification. A state-of-the-art air purification system reduces allergens, toxins and microbes, and a dechlorinator reduces chlorine in the shower water.
Menu. An exclusive, healthy in-room dining menu was crafted by executive chef Byron Thomas, with menu options approved by the Cleveland Clinic and denoted with the GO!Well seal.
Spa. Spa privileges allow Wellness Room guests to enjoy an 80-minute massage for the price of 50 minutes. The spa and rooftop outdoor pool are located down the hall from the Wellness rooms on the hotel's fourth floor.