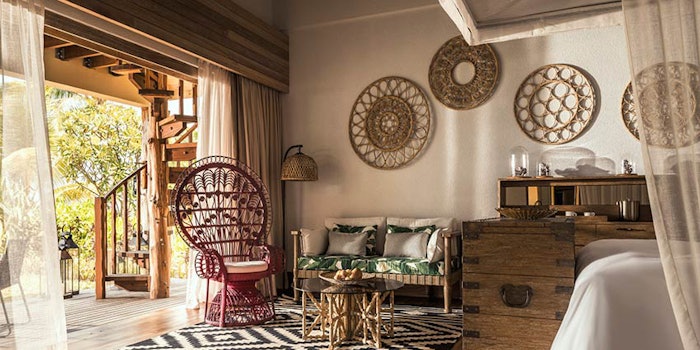 The Four Seasons has announced the opening of its Resort Seychelles at Desroches Island.
The island's only resort, the Four Seasons Seychelles spans the southwestern portion of Desroches' 933 acres. Paired with the Four Seasons Resort Seychelles on Mahé, guests have the opportunity to island hop between the two luxury hotels.
Its Circle of Connection Spa offers morning awakening and evening reflection rituals, as well as massages, facials and body treatments. The spa's series of Sensory Connection Rituals are designed to calm, refresh and detoxify guests, with skilled therapists working with each individual to identify their needs and wants, creating custom spa experiences.
Circle of Connection's yoga programs are led by in-house yogi Ganga Sadhuka, and include Hatha, Nidra, Meditation, Pranayama and Ashtanga in a dedicated beach pavilion; the resort is also home to a fitness studio for weight and cardio training, and an open-air floodlit tennis court, open for day or evening play.