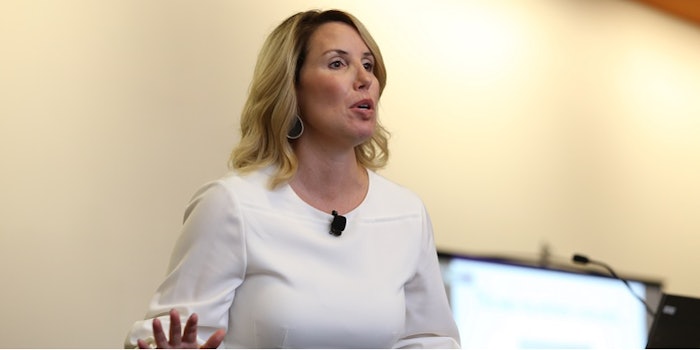 "Who is your Larry?" was the question at Skin Inc.'s Face & Body Northern California spa expo and conference's second keynote address.
At the beginning of Cheryl Nichols' 25-year-long career as an esthetician, she had a male client come in for a manicure every week. It turned out that he was a widower with no children, who wanted the weekly treatment for a simple reason: to hold somebody's hand for an hour. This was her Larry, who changed her perspective on her work as an esthetician.
"You may never know the impact you have on [clients'] lives," said Nichols. "You're not just holding someone's hand—you're holding their heart."
Benefits of Touch
"It is vital for us to preserve the human touch for us to survive," explained Nichols.
Touch has been shown to help decrease violence, build greater interpersonal trust and bond, create a stronger team dynamic, boost the immune system, decrease disease and just "feels good." 
Since there is an app for everything, such as grocery shopping, it is easier than ever to go days without touching another person, including light touches on the arm, handshakes or hugs. This leads to isolation, according to Nichols. 
"[Esthetics] is one of the last industries to be able to physically touch someone legally and get paid for it," said Nichols. "People are afraid to get touched—we have to make it okay that [clients] are here and they are receiving."
Appointments are sometimes the only time that clients have to themselves, and estheticians play a key role in their experience. "Don't take that away from yourself, and don't take that away from them," said Nichols.
Becoming a Client
This goes for estheticians as well—Nichols encouraged the estheticians and providers in the audience to make a commitment to themselves to get treatments outside of their own spas and to "be a real client," since, as Nichols stressed, "We need to receive." Often estheticians do not treat themselves to facials, massages, etc. because of the time, money and potential disappointment in the results—which leads to guilt.
According to Nichols, these are the four things estheticians need to bring to work every day to maintain a well state-of-mind:
Love—for yourself, what you do and the client;
Forgiveness—to yourself for being potentially distracted, the client for being late, etc.;
Laughter—to find the humorous side of initially bad situations (such as the time that Nichols waxed a client's eyebrow off); and
"Dancing, soaring, singing…"—the activities you do to take the stress out of your mind.