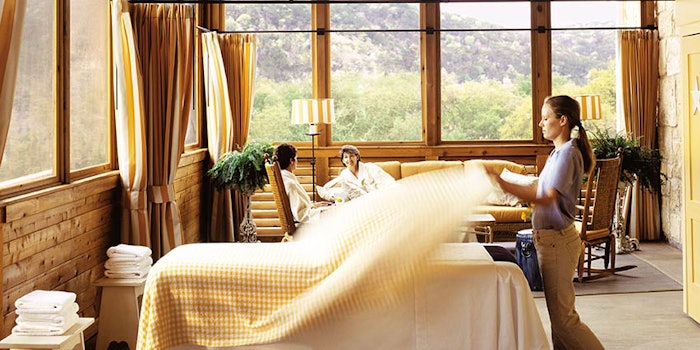 Lake Austin Spa Resort, located outside of Austin, Texas, has completed a multimillion-dollar renovation thanks to closures brought on by the COVID-19 pandemic, CultureMap Dallas reports. The 19-acre wellness destination boasts an array of new rooms, services, spa amenities and dining menus.
Dallas designer Brianna Wright-Guay was employed for all things décor and elected to select English fabrics, original art and custom furnishings for the entire property, including visual improvements to the Blue Room inside the LakeHouse Spa, according to the article.
The 25,000-square-foot LakeHouse Spa, which has been closed since March, received renovations and treatment revamp as part of the project. The spa has added more than a dozen treatments, including Soul Recovery, a treatment featuring gemstones, guided visualization and a scalp treatment; and Immunity Boost, which offers purifying inhalation techniques and acupressure massage, as well as lymphatic stimulation and drainage.
In preparation for reopening, the resort has enhanced its cleaning practices and staff protocol, in addition to limiting occupancy of classes and reconfiguring dining and pool areas to ensure social distancing can still be practiced at the resort, according to the article.