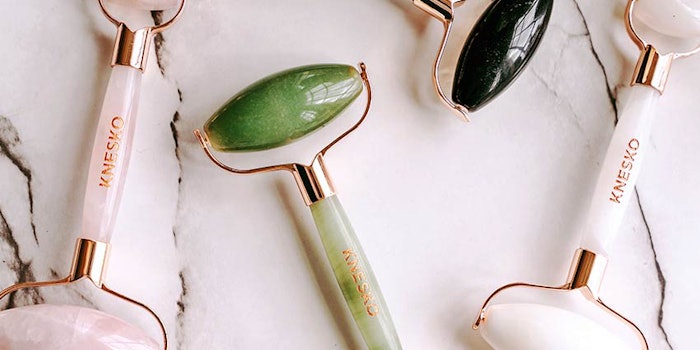 Knesko Skin has launched The Online Training Platform to educate spa and retail staff on the brand philosophy and product lines. In addition, Knesko has released consumer-facing videos to be used as a digital marketing tool in spa or on the in-room spa channel.
The videos feature brand information, techniques and inside tips directly from Knesko founder and president Lejla Cas—a wellness influencer, celebrity esthetician and Reiki master, who has been the face and inspiration behind the brand since 2012.
Clients have full access to a comprehensive range of Knesko's training videos on their telephones, tablets and computers. The platform will support estheticians, massage therapists, front desk and retain staff from Knesko spas and resorts, including properties from preferred partners such as Marriott, The Ritz Carlton and Four Seasons, Trilogy Ventures and WTS International.
Videos for spa professionals are an ideal introduction to the Knesko natural collagen hydrogel masks for face, eyes, lip, neck and décolleté and gemstone rollers, therefore encouraging the sale of treatment enhancements and home care. Each video goes through detailed step by step on how to apply each mask and how to use the gemstone rollers.
Other helpful videos include company philosophy, brand founder intro, Knesko's Signature Gemclinical facial protocols, and a detailed overview of Knesko's four collections: Diamond Radiance, Nano Gold Repair, Rose Quartz Antioxidant and Black Pearl Detox.
Consumer-facing videos are approximately one minute in length with brief, elegant "How-to's" featuring Cas showing how to self-apply the masks and use the gemstone rollers. The same videos are also available in approximately 0.15- sec length designed to be more of a spa digital marketing tool. These can be requested from the brand directly.
"It's important to us to always be listening to our customers, and many have asked us to do more videos over the years," Cas said. "We are excited to have The Online Training Platform as yet another venue to provide our customers with more support and brand knowledge. And online education enables the reduction of our carbon footprint by limiting our travel around the globe."
Cas continued, "Showcasing our quick, visually appealing videos in the spa lobby or on the in-room spa channel are ideal ways to introduce guests to the spa treatments and Knesko brand. Despite our masks' ease of use, seeing the masks 'come alive' creates a buzz with guest and staff and increases the chances of a retail sale or enhancement upgrade. These professional and home care videos have been a year in the making and are just the beginning of our Online Training Platform."