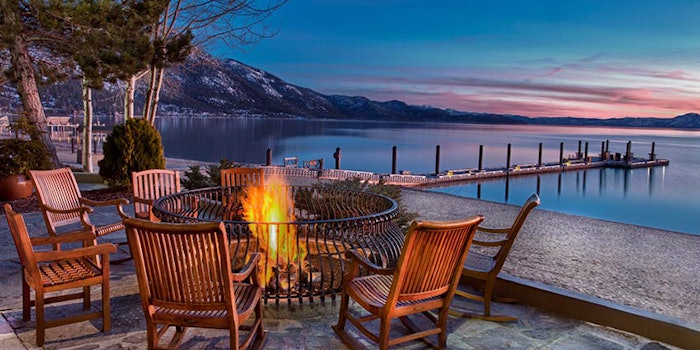 Stillwater Spa & Salon at Hyatt Regency Lake Tahoe Resort, Spa and Casino has announced a new spa menu, centered around the theme of a "Journey to Wellness." The menu features four new signature treatments designed to promote balance, mindfulness and overall wellbeing.
The "Journey to Wellness" treatments include the TARA Spa Therapy, which uses a massage oil infused with cannabidiol (CBD) oil. This 50-minute or 80-minute service includes a customized massage experience designed to help reduce inflammation, promote cell regeneration and calm anxiety. Guests also receive a complimentary bottle of the CBD oil as a take-home amenity.
Also included on the new treatment line-up is the Aroma Wellness Journey, which begins with a foot soak and a quick questionnaire that helps guests choose a wellness intention for their spa experience. Using the responses in the questionnaire, the provider creates a custom blend of essential oils that reflect the wellness intention selected by the guest. The treatment continues with a personalized massage therapy session utilizing the aromatherapy blend to enhance the experience.
Additionally, guests can take part in the restorative ANDA Facial, which includes a guided self-love meditation followed by a cleansing massage and facial masque. The treatment concludes with the application of a custom ANDA product blend using Gua Sha techniques to provide results that help to improve complexion and wellness, leaving skin feeling revitalized.
Finally, the new Illuminating Body Peel and Performance Wrap is also included as part of the "Journey to Wellness" menu. The treatment includes topically-applied Vitamin D, which stimulates collagen and enhances radiance while lessening the appearance of black spots. The treatment also uses natural, sugar-cane based glycolic exfoliators to remove dry and dead skin, followed by a rejuvenating mask with nourishing clays and avocado oil to illuminate skin from head to toe.
Stillwater Spa, nestled high in the Sierra Nevada Mountains, features 16 treatment rooms including two couple's sanctuaries, one with a fireplace and one with an infinity soaking tub. Guests who book a treatment at the spa have access to its amenities which includes a dry cedar sauna, eucalyptus steam room, and specialized relaxation areas, along with a state-of-the-art fitness center.
"We are thrilled to announce the new 'Journey to Wellness' spa menu in order to provide wellness-focused treatments that are designed to help our guests take part in a truly transformational spa experience," Erica Korpi, spa director at Hyatt Regency Lake Tahoe Resort, Spa and Casino, said. "These new treatments use unique approaches to enhance traditional spa services, and we look forward to helping our guests fulfill goals that are reflective of their own individual wellness journey."