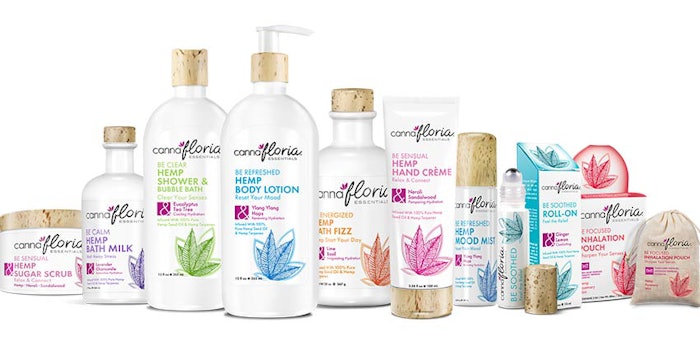 Cannafloria Essentials from Aromafloria has chosen Universal Companies, Inc. as its official distributor in the spa market.
This product line contains a blend of hemp seed oil and terpenes found in Cannafloria's proprietary THT (Thera Hemp Terpenes) technology, and targeted essential oil blends—a trifecta that is redefining the restorative properties of aromatherapy.
The partnership with Universal Companies will allow consumers to take part in the therapeutic experience of plant-based topicals with the helping hands of trained spa professionals.
A joint mission of this partnership is being at the forefront of the cannabis movement by letting consumers experience the mood-modulating benefits of the plant's compounds. Two forces have come together to enable spa-goers to combine skin care and beauty within as a holistic approach to wellness.
Providing Cannafloria products to dedicated spa professionals across the country allows for the power of education and experience to shine through. This is a union meant to deliver the mission of Cannafloria Essentials to consumers who seek uplifting encounters within the spa sector.
The Cannafloria Essentials collection is being distributed by Universal Companies to spas that wish to offer clean, cruelty-free hemp-infused sustainable beauty in their retail boutiques. It features seven aromas or "moods" to boost any mindset and nine formulations, including all-natural, CBD-free body lotions, bath fizzes, bath milks, sugar scrubs and aroma rollons inhalation pouches.
Universal Companies also plans to offer Cannafloria Hemp CBD Infused Booster Oil in the near future. This backbar product will allow spa professionals to personalize each client's wellness experience.
"My goal is to not only help consumers achieve balance and wellness, but to be a resource that helps to provide a deep understanding about the powerful synergistic effects of hemp and aromatherapy," Christie said. "This alliance is an incredible opportunity to grow the cannabis market in the spa sector, giving consumers the chance to experience the mood-modulating benefits of my products firsthand. Neuroscience is validating that our wellness is determined by our mood."
"Spas are at the front and center of the 4.5 trillion wellness economy," Marti Morenings, Universal Companies founder and chairwoman, said. "Our partnership with Cannafloria gives us an opportunity to reach millions of consumers who are looking to their spa practitioners for self-care advice."