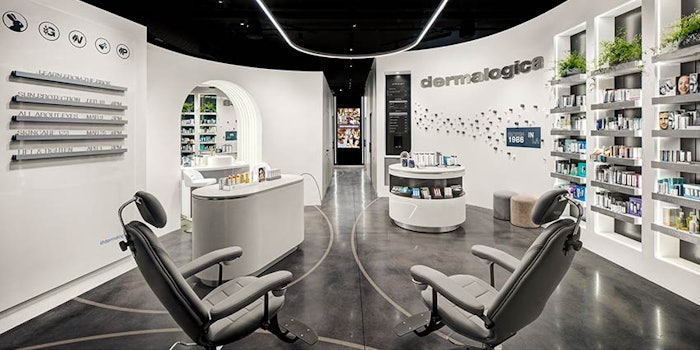 Dermalogica has opened its newest flagship location, Dermalogica West Hollywood, 605 North W. Knoll Drive. This community-centered space was designed as a modern interpretation of Dermalogica's pillars of education, personalization, and human touch.
Previously: Dermalogica Expands Product Development Lab
Its concept is materialized through architectural elements, artwork installations and a naturally welcoming flow meant to guide guests through a journey toward healthy skin.
With an open and approachable main space, guests are able to explore, experience and learn. A semi-private sink area invites customers to sample products on their own, while two skin treatment stations allow for 10-minute or 30-minute services performed by a skin therapist.
The open floor space welcomes monthly community skin care classes led by Dermalogica, which will address skin care concerns such as adult acne, as well as topics inspired by professional techniques, such as product mixology.
A community board highlights upcoming classes and boasts photos of guests' healthy skin journeys.
Additionally, a hallway leads back to three treatment rooms, where guests can get 60-minute and advanced professional skin services. Each room features an inspirational quote from Dermalogica founder Jane Wurwand, meant to evoke the brand's L.A. roots and entrepreneurial spirit.
Textures seen throughout the space transition from industrial and clinical to organic and soft, representing the improvement of guests' skin through science and treatment.
Curvature on the floor mirrors Dermalogica's Face Mapping lines, a signature skin analysis service and core facet of the brand identity that balances the role of science with that of human touch.
Beyond the retail area, a wall installation features Dermalogica's iconic bottle caps undulating in the shape of a wave, both as a nod to Los Angeles as well as an abstract timeline of the brand's evolution of ebbs and flows.
Los Angeles-based artist Priscilla Witte was also commissioned to create custom artwork in the rear of the space; her history of featuring hands in her murals embodies Dermalogica's belief in the power of human touch, as it radiates through the hands and expertise of our skin therapists.