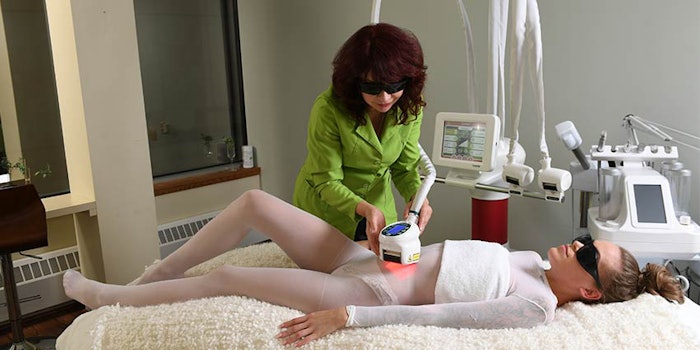 With only a handful of the Icoone LASER machines in the United States, Elina Organics Holistic Clinical Skincare Spa, 100 E. Walton, Suite #600E, is the first and only spa in Chicago to have this body firming machine from Italy.
The recontouring and lifting technology is used for face and body firming, sculpting and rejuvenating. The newest Icoone LASER features Roboderm, an innovative patented technology that combines a new generation of Independent Motorized Microstimulators with the power of LED and LASER.
This innovative combination offers a gentle yet efficient skin stimulation with noticeable results from the first treatment. The stand-alone device is ideal for the treatment of face, neck and cleavage, outline of face, eyes and lips, expression lines and deep wrinkles.
Icoone LASER offers a safe and pleasant new approach to aesthetic treatments. It is able to lift, massage and stimulate the connective tissue, reducing the appearance of cellulite, stretch marks, draining the excess liquids and firming the skin.
Patented and FDA-cleared, this system delivers multi-micro alveolar stimulation, combined with dual-wavelength laser energy.
Unlike other non-invasive procedures that can cause discomfort, redness, bruising or require recovery time, Icoone treatments are pain-free, with zero side effects or downtime. In fact, treatments induce a feeling of wellness and relaxation, as the twin handpieces simulate a two-hand massage. Patients can immediately resume their normal activities, including physical work or exercise regimens.
Icoone LASER treatments:
Icoone Anti-Aging Treatment for Face and Neck: Restore face and neck contour and firm skin with the Icoone elastin and collagen boosting technology. This is combined with Elina Organics rejuvenating treatments.

45 minutes: $180
Package of 10 (price/session): $160

Icoone Eye Treatment: Rejuvenate the eye area and reduce puffiness and crow's feet with skin rejuvenating Icoone technology and Elina Organics specialty formulations for the delicate eye area.

30 minutes: $130
Package of 10 (price/session): $110

Icoone Lip Rejuvenating Treatment: Rejuvenate the lip area and bring more volume to the lips with collagen elastin boosting Icoone technology combined with Elina Organics skin-restoring treatments.

30 minutes: $130
Package of 10 (price/session): $110

Icoone with Soft Laser Body Remodeling and Tissue Firming Treatment: Remove stubborn cellulite with this micro tissue-stimulating corrective Roboderm technology. Schedule a consultation and trial appointment to see results after the first treatment.

Consultation & Trial Appointment: $145
45 minutes: $200
Package of 10 (price/session): $180
Package of 20 (price/session): $160